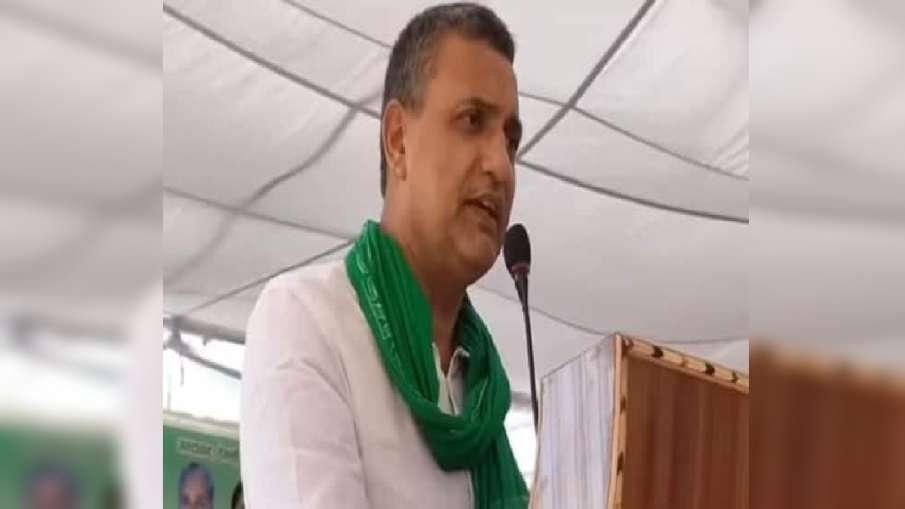 Spring news: Bihar Agriculture Minister Sudhakar Singh has resigned from the post of minister. Agriculture Minister Sudhakar Singh submitted his resignation to Chief Minister Nitish Kumar on Sunday. The Chief Minister accepted his resignation and sent it to Governor Fagu Chauhan. Sudhakar Singh is no longer a member of the State Council of Ministers. According to the information received from the Chief Minister's Office, Tourism Minister and RJD MLA Kumar Sarvjeet has been given Agriculture Department while the additional charge of Tourism Department has been given to Deputy Chief Minister Tejashwi Prasad Yadav. The newly formed Grand Alliance government of the state had to face a lot of trouble due to Sudhakar Singh's recent admission of corruption in his department.
This step was taken after the call of Tejashwi Yadav
Sudhakar Singh, a first-time MLA from Ramgarh in Kaimur district, has been in his assembly constituency for the past two days and according to RJD sources he took the step after a telephone call from Tejashwi Yadav last night. Yadav is said to have expressed his displeasure over Sudhakar Singh's behavior after which he sent his resignation letter. His behavior was considered a violation of the cabinet's principle of "collective responsibility". Known for his volatile nature, Sudhakar Singh did not come to the state capital Patna himself but sent his resignation through a personal staff, who submitted it to his father and RJD's state unit chief Jagdanand Singh. Jagdanand Singh said that Sudhakar Singh had given his voice to the concerns of the farmers, but sometimes merely raising questions does not work, sacrifices have to be made, so the Agriculture Minister has sent his resignation to the government.
'We don't want any fight to escalate'
Jagdanand Singh, who was made the party's state unit chief for the second time in a row due to his proximity to RJD president Lalu Prasad and his political successor Tejashwi Yadav, said, "We do not want any fight to escalate." And remembering Lal Bahadur Shastri that his son is following in his footsteps while sympathizing with the farmers. Sudhakar Singh had on several occasions angered Chief Minister Nitish Kumar by openly talking about corruption in his department and the arbitrariness of the bureaucracy.
'Nitish Kumar's trouble is going to increase'
Senior BJP leader and Rajya Sabha member Sushil Kumar Modi, who lost power in the state due to Kumar's exit from the NDA, said that within two months, the resignation of the second tainted minister of the Grand Alliance government, Sudhakar Singh, was a sign of storm. Is. He said that with the departure of two "tainted" ministers in two months, the political instability in the state and the embarrassment of "ambitious" Nitish Kumar is going to increase. Modi said that Jagdanand, a confidant of RJD's 'Family First', ran the government from behind the scenes when Lalu Prasad went to jail in the fodder scam and housewife Rabri Devi became the Chief Minister, now it is to be seen that between Jagdanand and Nitish Kumar. Who has to bow down in a confrontation? He said that Sudhakar Singh, who was made a minister from RJD quota under the pressure of Lalu Prasad, had to go to jail in the case of embezzlement of crores of rupees of Food Corporation, he was on bail. He said that former Law Minister Kartikeya Singh is facing a case of kidnapping with intent to murder, both of them had to resign.
'There is no part that does not steal'
It is noteworthy that Sudhakar had recently said, referring to the rampant corruption in his department, "We do not think that the seeds received from Bihar State Seed Corporation are planted by farmers in their fields. The seed corporations eat 150-200 crore rupees here. There is no part in our department that does not steal. In this way we became the chief of thieves. We would not be called Sardars. When theft is taking place, we have become its sardar." Sudhakar Singh had again hit out at the previous NDA government in the state and said on Saturday that he would not rest till the Agriculture Department's Produce Marketing Committee (APMC) was formed. The Act and the market system are not restored.
window.addEventListener('load', (event) => { setTimeout(function(){ loadFacebookScript(); }, 7000); });