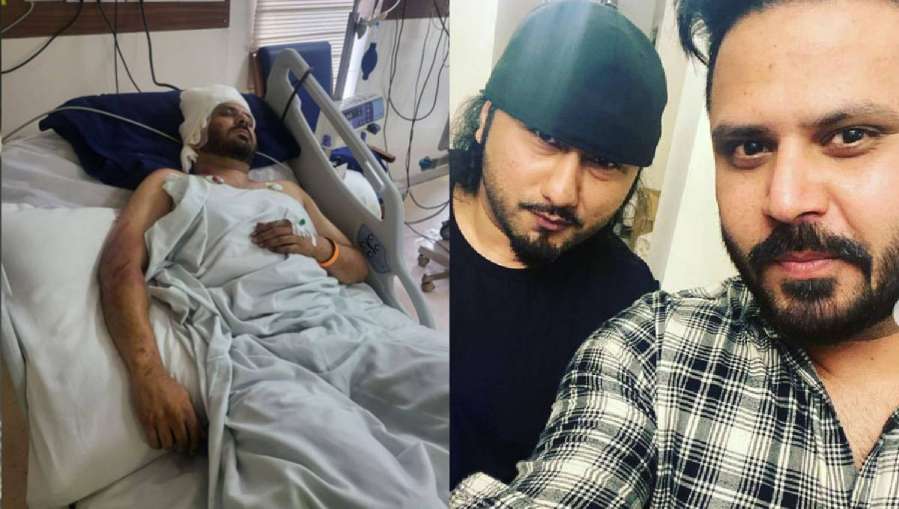 Highlights
Punjabi singer's photo surfaced from the hospital
spinal cord injury
Singer Honey Singh gave information
Punjabi Singer Alfaz Attack: This year, the music industry is in shock since the daylight murder of Punjabi singer Siddu Musewala. Meanwhile, news has now come that Punjabi singer Alfaz has also been attacked with a deadly attack. Alfaz has been admitted to a private hospital in Mohali due to spinal cord injury. Famous rapper Honey Singh has given this information.
how the accident happened
According to reports, Punjabi singer Alfaz was returning from an event last night when the accident happened on Banur Marg. On the way, he was standing on the road doing the laundry after getting down from the car for some work and suddenly a speeding auto hit him. He was accompanied by some other friends in his vehicle at the time of the incident, who had admitted Alfaaz to a private hospital in Mohali in a critical condition.
What did Honey Singh say?
Rapper Yo Yo Honey Singh shared a picture of Alfaz from the hospital and said on social media, 'My brother Alfaz was attacked last night. I will not leave anyone who has planned this attack. Remember these words of mine. Along with this, Honey Singh also appealed to his fans to pray for Alphas. However, on Monday morning, Honey Singh deleted this post.
Attack or accident?
According to the information, Alfaz has suffered a spinal cord injury in this accident. People are wishing him well on social media. However, many people on social media are calling the incident a rumor and calling it a road accident.
Career started at the age of 14
Talking about Alfaz's career, he started working in the Punjabi music industry from the age of just 14. Till now he has written more than 2500 songs. His first song 'Hai Mera Dil' in 2011 was very much liked. He is considered one of Honey Singh's most special friends. He has sung many songs with Honey Singh. They have done many shows together.
Good news for the fans waiting for Mirzapur 3, Bina Tripathi made a big disclosure
Kidney Failure: This popular TV actress has kidney failure, family does not have money for treatment
Bigg Boss 16: Shahnaz Gill's coming in support of Sajid Khan left the fans stunned, trolled fiercely on Twitter, said – anything for films…
Latest Bollywood News
window.addEventListener('load', (event) => { setTimeout(function(){ loadFacebookScript(); }, 7000); });