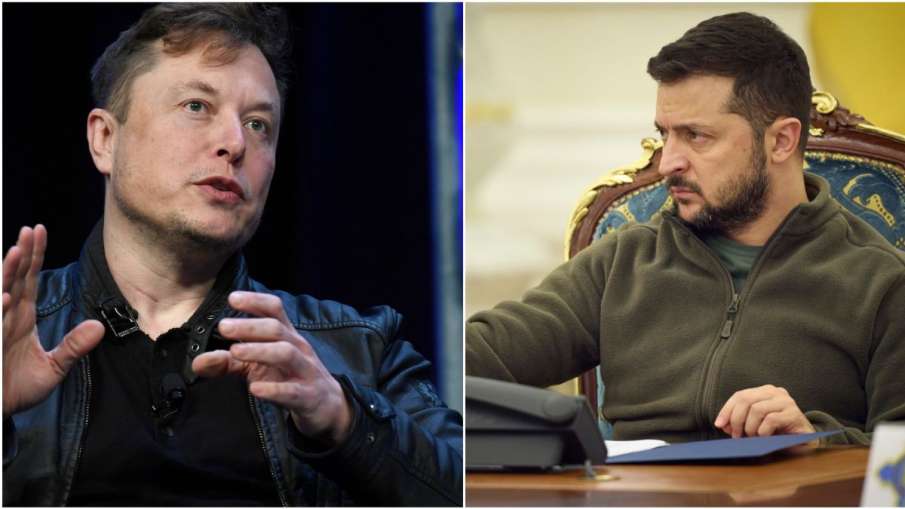 Image Source: AP Elon Musk-Volodymyr Zelenskyy
Highlights
Volodymyr Zelensky and Elon Musk debate Zelensky furious after a tweet by Elon Musk asking questions by poll on Twitter
Volodymyr Zelenskyy-Elon Musk Fight: The world's richest man Elon Musk on Monday asked Twitter users for their opinion on plans to end the war between Russia and Ukraine. Due to which not only the President of Ukraine, Volodymyr Zelensky got infuriated but the people of Ukraine also did not like it. Musk proposed holding UN-supervised elections in four Ukraine-held territories, which Russia had annexed after a referendum last week. Ukraine and the West have called the vote illegal and forced. In such a situation, Musk said that Russia will leave Ukraine only when the people there want it. He did a poll on Twitter.
To which he wrote, 'Let's try it: people living in Donbass and Crimea should decide on their own whether they are part of Russia or Ukraine.' In its option, he wrote, yes or no. After this, Zelensky tweeted in the matter on Monday. He also polled it. In his question, the President of Ukraine asked, 'Which Elon Musk do you like more? Those who support Ukraine, or those who support Russia?'
Elon Musk again replied to this tweet of Zelensky. He wrote, 'I still support Ukraine very much, but I believe that the escalation of the war will cause great harm to Ukraine and possibly the world.' Seeing both of them tweeting like this, people are reacting a lot. Some people are justifying Zelensky, some are telling Elon Musk right. Even before this, Musk had come to the discussion about the Ukraine war. He had talked about giving internet service with the help of his satellite to this country which is fighting the war with Russia.
Russia annexed 4 regions of Ukraine
Announcing this at a ceremony organized by the Kremlin at Moscow's grand St. George's Hall to announce the annexation of occupied Ukraine, Putin said that the inclusion of these territories in Russia is "the choice of millions of people" who have a relationship with the Russian Federation. Shared history. Donetsk, Luhansk, Kherson and Zaporizhzhya have been announced to join Russia.
"We call on the authorities of Kyiv to immediately end hostilities, to end the war that they started back in 2014," Putin said. We appeal to them to resume talks. We are ready for it." "But we will not discuss the choice of people in Donetsk, Luhansk, Kherson and Zaporizhzhya," he said. Russia will not betray them. What the Russian president did not clarify is what these newly created so-called Russian territories actually represent.
Declared a republic even before the attack
Putin declared Donetsk and Luhansk in the Donbass region as republics a day before launching an attack on Ukraine in February. Fierce fighting is currently going on in all four regions, including around Zaporizhzhya, the site of Europe's largest nuclear power plant. According to an estimate, these four provinces spread over 40 thousand square miles, about 15 percent of the total area of ​​Ukraine. According to a report, Russian troops targeted a convoy of civilians in Zaporizhzhya, killing 25 people. Russia has blamed Ukraine for this.
Latest World News