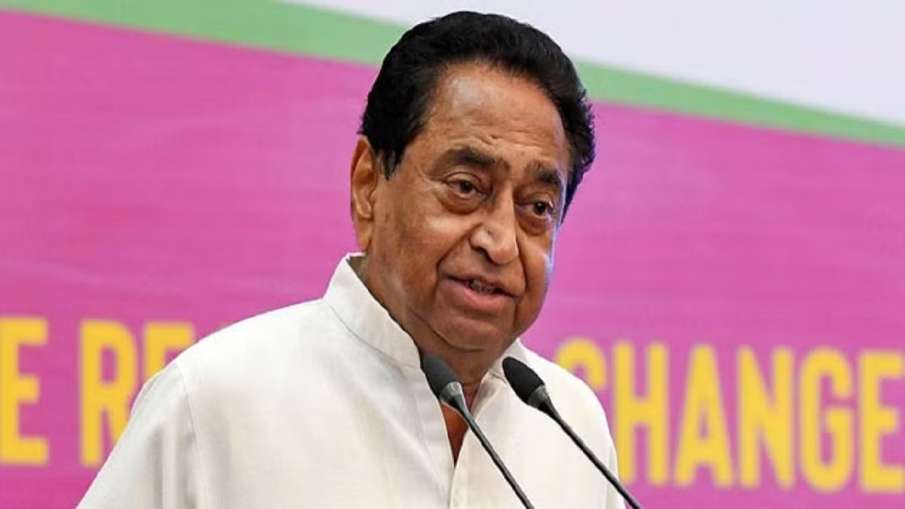 Bhopal: Congress Madhya Pradesh unit president Kamal Nath has prayed to Lord Mahakal for divine intervention to free the state from the 50 per cent commission rule. Kamal Nath on Monday visited the famous Mahakaleshwar temple, one of the 12 jyotirlingas of Lord Shiva in Ujjain.
The Congress leader said that he has written a letter to God. The Congress leader has shared the letter written to Lord Mahakal on Twitter. He wrote in the letter, 'I request you on behalf of all the suffering people of Madhya Pradesh that my Madhya Pradesh is sinking in the quagmire of corruption. No one has been spared in scams under the 50 percent commission of the Mother of Corruption Party (BJP).
Scam in construction of Mahakal Lok Corridor in Ujjain: Kamal Nath
The letter prayed to Lord Mahakal to deliver the people from this corrupt government, punish the criminals and ensure the welfare of all. The former chief minister said that there was also a scam in the construction of the Mahakal Lok Corridor in Ujjain, the abode of Lord Mahakal.
From the nutrition scheme for pregnant women to the construction of Mahakal Lok, corruption has spread, the letter said. Those who raise their voice against this cruelty are slapped in false cases and subjected to all kinds of torture.
Speaking to reporters later, Kamal Nath said that he prayed to Lord Mahakal to end the corrupt government. He also expressed confidence that the Congress would win the assembly elections later this year and the first cabinet meeting would be held in Ujjain.
What's the whole deal?
The Indore police last week registered an FIR against the 'operators' of the 'X' accounts of Congress leaders Priyanka Gandhi Vadra, Kamal Nath and former Union Minister Arun Yadav on 50 per cent commission in government posts. Responding to the state Congress president's allegations against the Madhya Pradesh government, state Bharatiya Janata Party (BJP) spokesperson Pankaj Chaturvedi claimed that an associate of Kamal Nath had received Rs 90 crore in cash and filed a case with the Election Commission of India. has been entered. pending before ECI).
Chaturvedi said, Kamal Nath's name is involved in the AgustaWestland scam, Tughlaq Road Hawala case, anti-Sikh riots and many other scams. A man whose life is steeped in corruption and whose party leaders are out on bail, requested a holy place like the Mahakaleshwar temple on the basis of a forged and forged letter.
What did Priyanka Gandhi say?
Priyanka Gandhi took to Twitter on Friday to claim that an association of contractors in Madhya Pradesh has written to the Chief Justice of the High Court complaining that they are released only after paying 50 per cent commission. In a statement issued on X, the Indore Police Commissioner said that local BJP legal cell convener Nimesh Pathak had complained that a fake letter in the name of a person named Gyanendra Awasthi was circulating on social media.
Priyanka alleged in the post that the corrupt BJP government in Karnataka used to take 40% commission. In Madhya Pradesh, BJP has broken its own record of corruption. The people of Karnataka removed the government with 40% commission, now the people of Madhya Pradesh will remove the government with 50% commission. Kamal Nath and Yadav also made similar posts. (input language)
Latest India News