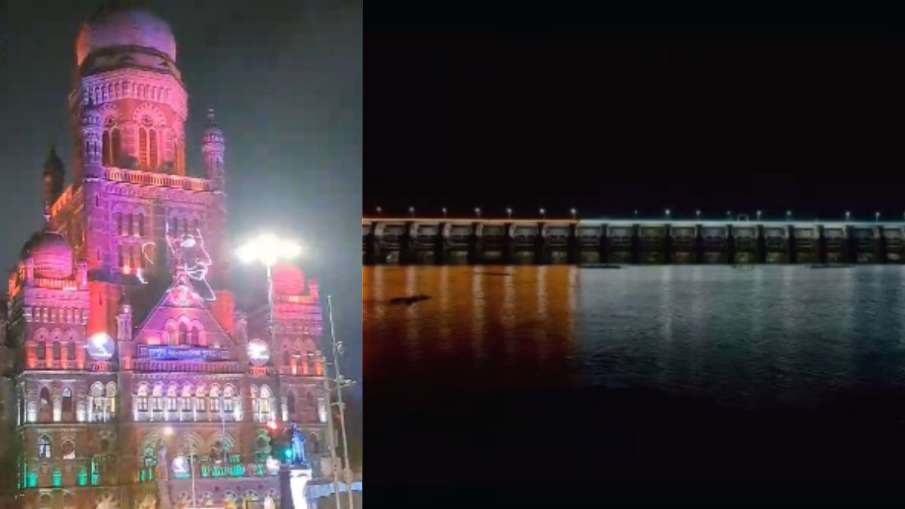 Today, on the occasion of Independence Day, the historic buildings of Maharashtra have been decorated with lights of the tricolor. It is very relaxing to see. Mention that Mumbai's historic BMC headquarters and the Chhatrapati Shivaji Maharaj Terminus building have been decorated with tricolor lights. Along with this, images of legends and revolutionaries have also been shown through a laser show on the BMC building. These pictures look very beautiful. Which visitors are appreciating.
Pictures of great men were shown.
Tell that the photographs of Chhatrapati Shivaji Maharaj, Subhash Chandra Bose, Bhagat Singh, Rani Lakshmibai, Chandrashekhar Azad, Jawaharlal Nehru and other revolutionaries and great men are shown. There is a huge crowd of Mumbaikars and tourists to watch this laser show. On the occasion of Independence, all major buildings in Maharashtra are decorated with tricolor lights.
Gosi Khurd Dam was also bathed in light.
At the same time, Tricolor lights have also been decorated at Gosekhard Dam in Bhandara district of Maharashtra. Which looks very attractive. Indira Sagar or Gosekhard (Gosekhard) Dam was established as Gosekhar National Project to provide irrigation facilities in Bhandara, Nagpur and Chandrapur districts of Maharashtra. The foundation stone of this dam was laid on October 23, 1984 by the former Prime Minister of India, Indira Gandhi. This dam is 92 meters high and 653 meters long. This dam has been built after rehabilitating around 249 villages.
Vidhan Bhavan in Nagpur has also been illuminated. The entire Vidhan Bhawan is lit up with lights. Tell that this light show is done this evening.
Also read:
Foreign women sang Shiva Tando in 'Akhand Bharat' programme, everyone was stunned.
(Tags translation