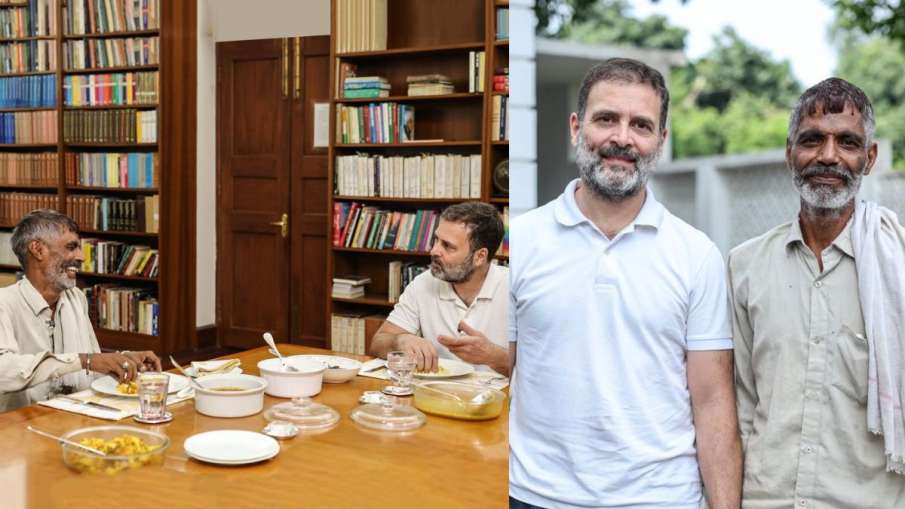 New Delhi: Congress leader Rahul Gandhi had lunch with vegetable vendor Rameshwar on Monday. Rameshwar went viral on social media in the past few days as he talked about his hardships due to inflation in a video and was seen crying during it.
Sharing his picture with Rameshwar, Rahul Gandhi wrote on Twitter, 'Rameshwar ji is a lively person! In them one can see the innate nature of millions of Indians. Those who carry forward with a smile even in difficult situations are truly 'Bharat Bhagya Vidhatha'.
Congress also posted a picture of Rahul Gandhi with Rameshwar on Twitter and wrote, 'Rameshwar ji expressed his desire to meet Jannaik. A meeting was held. During the lunch, Rahul and Rameshwar were seen sharing light moments with each other. Rameshwar is seen smiling in the picture.
Who is Rameshwar?
Rameshwar is a vegetable vendor. In Delhi's Azadpur Mandi, Rameshwar told a media person about his problems. During this, his tears also came. His video went viral on social media. Rameshwar had expressed his desire to meet Rahul Gandhi, after which Rahul reached Azadpur Mandi in search of him. The meeting between Rameshwar and Rahul is being discussed a lot in political circles.
Also read:
Big news about Mono Manesar, DGP of Rajasthan did not believe the accused of murder of Nasir and Junaid, investigation continues.
Delhi: Bomb informer arrested in Kashmiri Gate metro station, drunk and spread fake news
Latest India News