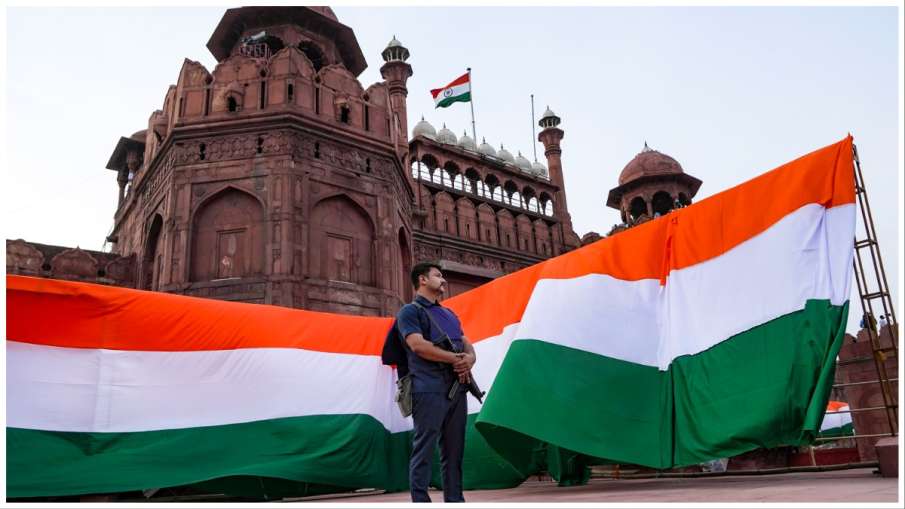 The Gyan Path in front of the Red Fort in central Delhi is decorated with flowers and the G-20 logo on the occasion of Independence Day. Prime Minister Narendra Modi is scheduled to deliver his 10th speech from the Red Fort on August 15. During this time, more than 10 thousand security personnel will be deployed. Around 1,000 cameras with facial recognition and video analysis systems will be installed at the Red Fort and other locations to ensure foolproof security and monitor the movement of very important persons (VVIPs). Around 70 to 75 couples from each state will attend the event as special invitees and they will participate in their traditional attire.
20 thousand guests will participate in the program.
Sarpanchs of dynamic villages, nurses, fishermen and laborers engaged in the construction of the Central Vista project are among the special invitees for the programme. A senior police officer said, "This year, more than 20,000 officers and civilians will participate in the Independence Day celebrations. The Gyan Path has been decorated with flowers and the G-20 logo for the national celebration." Until the program ends, kite flying will not be allowed in areas around the Red Fort, police said. A number of personnel have been deployed with necessary equipment for pest control.
Sharp shooters will be deployed.
Let us tell you that in the year 2017 during Prime Minister Narendra Modi's Independence Day address, a kite landed right below the podium. However, the Prime Minister continued his speech without any concern. According to the police, an anti-drone system will be installed at the Red Fort as per tradition. Apart from this, anti-terrorism measures are also being taken. Snipers, elite SWAT commandos, kite-flyers and snipers will be deployed at nearby locations for the security of the Prime Minister and other VVIP guests. Special Commissioner of Police (Law and Order) Dipendra Pathak said, "There were some restrictions in the last few years due to COVID-19. This year Independence Day will be celebrated with full fervor." Therefore, there will be strong and proper deployment of police personnel.
Section 144 is in force in these areas of Delhi.
"Also, we will share information from time to time with other agencies to provide security. Delhi Police will also use technology for security. We are fully engaged and practicing," he added. Deputy Commissioner of Police (North) Sagar Singh Kalsi said, "Delhi Police has also stepped up patrolling and checking. Hotels, guesthouses, parking lots and restaurants are being checked and tenants and employees are being verified." Members of RWA (Resident Welfare Association) and MWA (Market Welfare Association). Prohibitory orders were imposed under Section 144.
(input language)
Latest India News