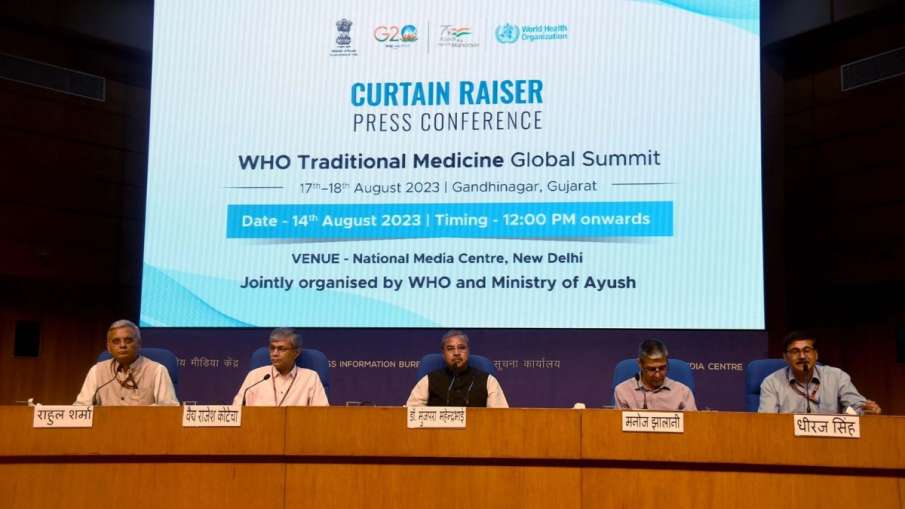 A global summit is being organized by the World Health Organization and the Ministry of AYUSH, Government of India on August 17-18 in Gandhinagar, Gujarat. This international summit will be based on traditional, complementary and integrative medicine. It will be an important platform for new scientific developments and experts in the field of traditional medicine to ensure future direction of health and public welfare.
Evidence of traditional medicine
Union Minister of State for AYUSH and Women and Child Development Dr. Manjapra Mahendrabhai said at the end of the summit that this announcement will give new dimensions to the 'WHO Global Center for Traditional Medicine' (GCTM) in the field of traditional medicine. This is a testament to the multifaceted progress made by the various traditional medical systems of our country. About 80 percent of the world's population uses traditional medicine, such as herbal medicine, acupuncture, yoga, Ayurvedic medicine, and indigenous medicine. At the same time, Manoj Jhalani, Regional Director of the Health System Development Department of WHO South East Asia, said that the summit will develop a road map towards creating an inclusive and healthy world for future generations.
Tedros Adenom will also be involved.
The conference will be inaugurated by WHO Director General Dr. Tedros Adhanom Ghebreyesus, Union Health Minister Mr. Mansukh Mandavia and Union AYUSH Minister Mr. Sarbanand Sonowal. The conference will be attended by G20 Health Ministers, WHO Regional Directors and eminent scientists, physicians and members of various organizations. During this time, an exhibition will also be organized in which the traditional medical systems of the whole world will be displayed through the joint efforts of WHO and India. The exhibition will also showcase the relationship of traditional medicine with the natural environment.
This decision was taken in 2022.
WHO had established the Global Center for Traditional Medicine in 2022 in collaboration with the Government of India. The center is a joint project of India's Ministry of AYUSH and World WHO and is the first and only global center for traditional medicine worldwide. WHO-GCTM will provide leadership and support on all global health issues related to traditional medicine.
Also Read – Shatrughan Sinha Wants To See Mamata Banerjee Become Prime Minister, Says – She Is A Firebrand Leader
Also read – President Draupadi Murmu addressed the country, said – Gandhiji saved the soul of the country woke up