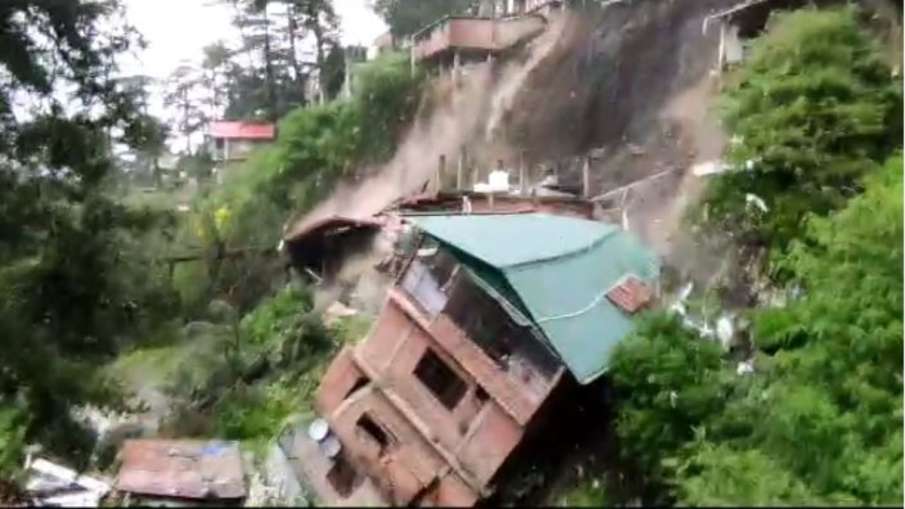 In the midst of heavy rain in Himachal Pradesh, a terrible incident has come out from the capital Shimla. A massive landslide occurred in Krishna Nagar here in which many houses including the Slaughter House were destroyed. 6 houses are reported to have collapsed in this landslide. The city's slaughterhouse also ran below it. The slaughterhouse along with the house was completely turned into rubble, the video of which was also released. In the video, it can be seen how the Slaughterhouse building collapsed due to the falling tree.
Soon other buildings also collapsed.
It can be seen in the video that first a tree fell on the building and soon other buildings also collapsed. Along with it, other buildings have also come under its grip. Many laborers working in the slaughterhouse are feared to be buried in it. After receiving information about this matter, all the officers of the district administration are proceeding to the spot. Relief work is in progress. Debris removal has been started.
The houses built on the hill were also affected.
It is being told that first a big tree fell behind the slaughter house. The Slaughterhouse was then demolished. Due to its fall, the houses built on the hill were also engulfed by it. After this accident there is an atmosphere of panic among the local people. The slaughterhouse which has collapsed belongs to the Shimla Municipal Corporation. Such accidents have happened many times before in Krishna Nagar, as the colony is built along a canal.
More than 50 deaths in heavy rains disasters
there itself, Himachal Pradesh More than 50 people died during the severe destruction caused by the rains. 14 of them died in two landslide incidents in Shimla. It is feared that 25 to 30 people are still buried under the rubble of the Shiv temple in Summer Hill area of ​​Shimla. Meanwhile, the Kalka-Shimla railway track between Jotog and Summer Hill was washed away due to rain, halting the movement of trains. Chief Minister Sukhon Singh Sukhu reached the spot and met the victims.
Rain forecast till August 18 in the state
The Meteorological Department has issued a yellow alert for heavy rain in Himachal on Tuesday and has predicted rain in the state till August 18. According to the State Emergency Operations Centre, the state has so far suffered a loss of Rs 7,171 crore since the onset of monsoon on June 24. At least 170 incidents of cloudbursts and landslides have been reported from the state in the ongoing monsoon season, and around 9,600 houses have been partially or completely damaged.
Latest India News