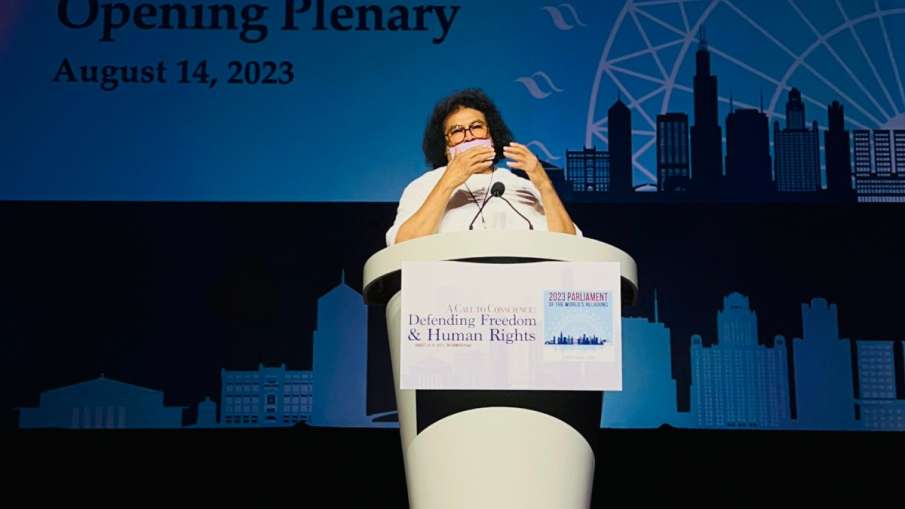 The World Parliament of Religions 2023 was inaugurated in Chicago, USA. More than ten thousand representatives of different religions and sects from more than 80 countries participated in the ceremony. Jain Acharya Dr. Acharya Lokesh Muni, founder of Ahimsa Vishwa Bharati, addressed the inaugural function. The event brought together delegates from around the world to discuss religious harmony, spiritual development, climate change, non-violent society and other topics.
The Parliament will continue till August 18.
The World Parliament of Religions 2023 is being held from August 14 to August 18, 2023. Here Jain saint Dr. Acharya Lokesh will discuss issues like peace and love: violence-free, hate-free and war-free world, ways to create world peace.
Proud to represent India.
On this occasion, Acharya Lokesh said that it was a matter of pride for him to represent Jainism and Indian culture on such a historic occasion. It should be noted that Swami Vivekananda also addressed this World Parliament of Religions in Chicago in 1893 and drew the world's attention to the spiritual heritage of India. Earlier, Acharya Lokesh had also addressed the inaugural function of the World Parliament of Religions held in Salt Lake City, USA in 2015 and in Toronto in 2018.
Solutions to global challenges
Jain Acharya Lokesh appealed to the representatives of various countries present at the event to unite in the direction of love, peace and prosperity. He said that the world is currently facing many challenges, some of which pose a threat to the entire universe. Global warming, climate change, terrorism and violence are issues that everyone is facing. People of different religions, sects, countries and ideologies can solve these problems together. He said that harmony of all religions is necessary to solve global problems.
Also Read- Indian man gets award in Singapore, felicitated at annual function of airline
Also Read: World Bank Expresses Concern Over Chinese Loans To Poor Countries In Africa, China Rejects
Latest world news.