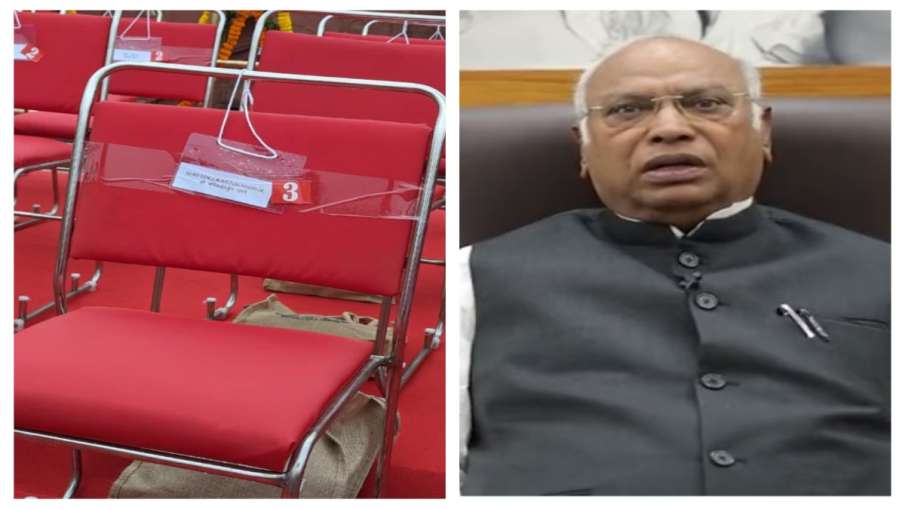 Delhi: The main program of the Independence Day concluded in the premises of the Red Fort. Prime Minister Narendra Modi hoisted the tricolor from the ramparts of the Red Fort and addressed the compatriots. Several ex-servicemen and around 2,000 guests attended the function but the chair of Congress president Mallikarjan Kharge was seen empty during the function. Kharge could not attend the ceremony. Later it was said that Kharge did not go to Lal Fort due to eye and security reasons.
At the same time, giving an explanation from the Congress, it was said, 'Kharge had to hoist the tricolor at his house and at the Congress party office. That's why he could not attend the function held at Lal Qila. If they left, they would not be able to leave the house quickly. They will have to stay there for at least two hours, they will not be able to hoist the flag at the Congress headquarters in time. It was further said that he will be present at the President's residence in the evening.
Kharge said that Modi will hoist the tricolor at his house next year.
Reacting to PM Modi's 'next August 15 from this red fort, I will present the country's achievements before you', Congress president Mallikarjan Kharge said, 'He will hoist the national flag again next year, he Will do that. Home."
Modi government is suppressing the voice of opposition.
The Congress president then issued a video address via a tweet, in which Kharge, without naming PM Modi, said, "Some people believe that the country has progressed in the last few years. But that is not true. When the British left, the situation was such that even a needle could not be made in the country. Then Pandit Nehru took a big initiative, set up steel plants, built dams, built institutions like IIT, IIM, AIIMS. Indira Gandhi – Lal Bahadur Shastri Harit – brought revolution, made India self-reliant.
Targeting the government, the Congress president said that those who stung democracy silence the opposition on the other hand. Democracy is in great danger today. The voice of the opposition in Parliament is silent, my mic is silent.
Kharge congratulated the compatriots.
Earlier, Kharge tweeted to wish his countrymen a Happy Independence Day. He said that democracy and constitution are the soul of our country. We pledge to uphold the country's unity and integrity, love and brotherhood, harmony and harmony, democracy and independence of the Constitution.
Also read:
'My dream is to make 2 crore blind people millionaires', PM Modi made a big announcement from the wall of Red Fort.
Now no one can question the law and order of the state – CM Yogi
Latest India News