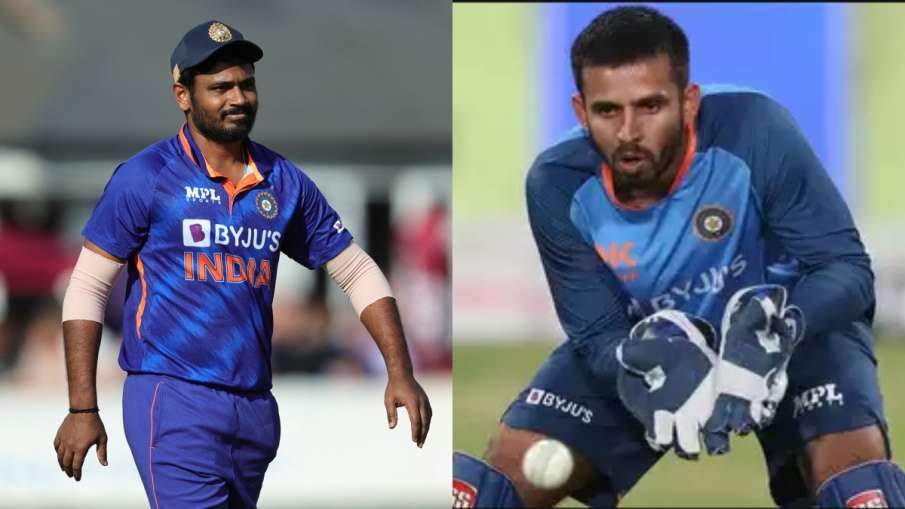 The Indian team under the captaincy of Jasprit Bumrah will play a three-match T20I series on the tour of Ireland. Young players who have performed well in IPL and domestic cricket have got an opportunity in Team India for the tour of Ireland. Jitesh Sharma and Sanju Samson have been named as wicketkeepers in Team India for the tour of Ireland. Now it has to be seen who will be given a chance in the playing XI along with captain Jasprit Bumrah.
1. Sanju Samson
Whenever Sanju Samson got a chance in Team India. He has not been able to redeem it. In the T20 series against the West Indies, he miserably failed to score runs. He scored only 32 runs in five matches against West Indies. He made his debut for Team India in the year 2015, but failed to secure his place in Team India due to poor performances. Sanju has so far scored 333 runs in 22 T20 matches for Team India, including a half-century.
2. Jitesh Sharma
Jitesh Sharma made a splash for Punjab Kings in IPL 2022 and 2023 and scored huge runs. He scored 309 runs in 14 matches of IPL 2023 and won many matches for the team. Jitesh's wicket keeping skills are also amazing. He has scored 632 runs in 17 First Class matches and 1350 runs in 47 List A matches.
Jitesh's good performance earned him a chance in the series against Sri Lanka, but he could not make it to the playing XI. Now, given Sanju's poor performance, he may make his debut for Team India on the tour of Ireland and take over as wicketkeeper.
Also read:
The open fate of this Mumbai Indians player, got a place in the ODI and T20 team for the first time
Team announced for Asia Cup, this player becomes captain; These players got places.
Latest Cricket News.