Vicky Kaushal Katrina Kaif Independence Day Pictures: On the 77th Independence Day, common people as well as Bollywood celebrities are seen in patriotic colours. On this occasion, he is congratulating his fans by sharing more than one of his pictures on social media. B-Town's beautiful couple Vicky Kaushal and Katrina Kaif have also shared a picture of themselves on social media. Apart from this, Bollywood's Pathan Shah Rukh Khan also congratulated the fans on Independence Day.
Vicky-Katrina was spotted on the balcony waving the tricolor.
Vicky Kaushal and Katrina Kaif shared this picture on their Instagram account. In which both were seen waving the tricolor in their balcony. In the picture, both were looking towards the tricolor. In the picture, both are looking at the tricolor with great love. During this time, both were also seen as twins. While Vicky wore a white shirt, Katrina is seen in a white kurta. Their fans are showering lots of love on this beautiful picture of the two.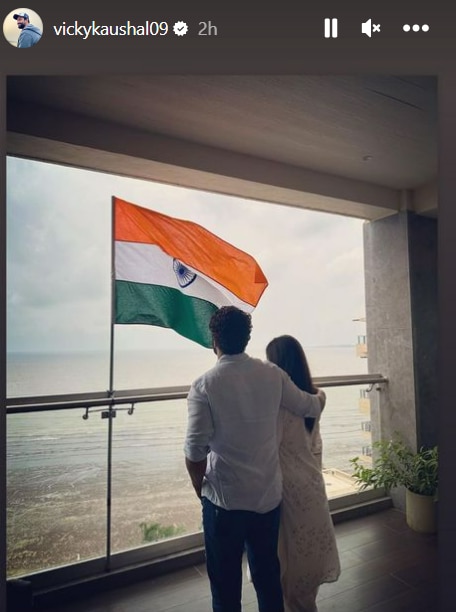 Shah Rukh Khan congratulated with his family.
King of Bollywood i.e. Shah Rukh Khan has also congratulated his fans on Independence Day with his family. Shah Rukh Khan has shared a picture on Instagram waving the tricolor. In which he was seen with his wife Gauri Khan and younger son Ibrahim Ali Khan. Sharing it, Shah Rukh Khan wrote – 'Now the little one has made it a tradition. Waving our beloved tricolor and wishing everyone a very Happy Independence Day…Love to all and may our country, India prosper and we all be with it.'
Karthik Aaryan shared this photo.
While earlier, actor Karthik Aaryan also shared a picture of himself on Instagram. In this picture, Karthik was posing with his dog. In this picture, the actor is also carrying a tricolor spinner. While sharing it, he wrote in the caption, "Happy Independence Day." In this picture, Karthik is also seen wearing a white kurta.
Sara Ali Khan was seen doing Jai Hind in front of the flag
Actress Sara Ali Khan was also seen dressed in patriotic colors today, Sara has shared a very beautiful picture on her Instagram. In which she was seen wearing a white sharara suit with a tricolor scarf. Sharing this picture, Sarah wrote – 'Happy Independence Day..'
Also read-
What finally happened was that Shahnaz Gul pointed a gun at Rajkumar Rao arriving at 'Desi Vibes', the actor looked scared.