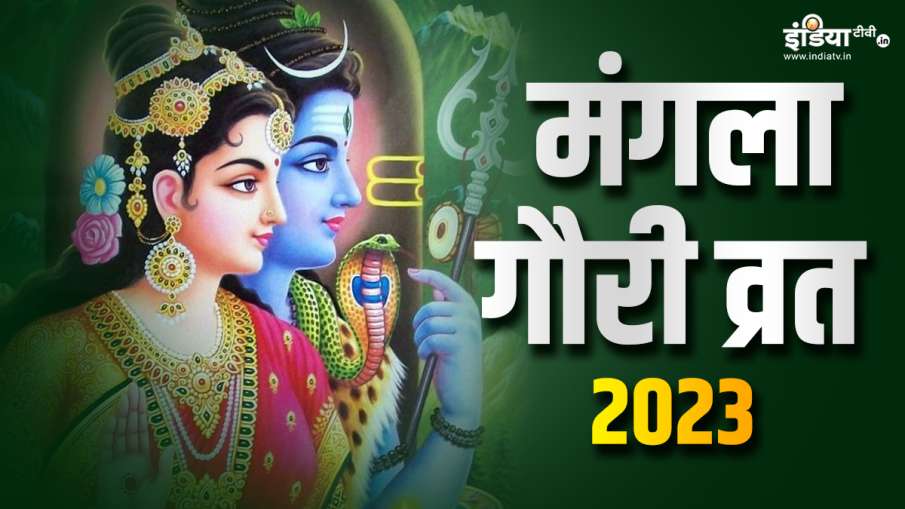 Mangala Gauri Vrat 2023: It is customary to observe Mangala Gori Vrat on all Tuesdays in the month of Shravan. In this fast, Maa Gori i.e. Parvati is worshipped, which is why this fast is called Mangala Gori Vrat. Mangala Gouri Vrat is also known as Murkat Vrat. According to the Puranas, the month of Savan is very dear to Lord Shiva and Mother Parvati. That is why the worship of Lord Shiva on Monday in the month of Savan and Goddess Gauri i.e. Parvati on Tuesday is described as very auspicious and auspicious in the scriptures. Let's know the significance of Mangala Gouri Vrat and the method of Pooja.
Mangala Gauri Vrat is today.
The month of Sawan is full 59 days due to the beginning of Malmas this year. In which a total of 9 Mangala Gori fasts will be observed. Whereas today i.e. 15th August 2023 is the seventh Mangala of Savan and the last of Adhikamas.
Significance of Mangala Gauri Vrat
By the effect of Mangala Gauri Vrat, delay in marriage ends and one gets the desired life partner, marital life is happy and life partner is protected, son is born, domestic troubles are over, divorce and astrological yogas are done. Related separation becomes calm, fame in all three worlds, happiness and fortune increase.
According to astrology, men who have Mangalak Yug in their horoscope should fast on Tuesday and worship Lord Shiva and Mother Parvati. This will reduce the malefic influence of Mars in his horoscope and bring happiness in married life. According to the scriptures, women who fast on Tuesday in the month of Sawan and worship Mangala Gori, their husband's crisis is avoided and they enjoy a long married life.
How to fast Puja of Mangala Guri
On this day, the fasting person after retiring from his routine should make a vow that he is performing the ritual of Mangala Gauri Vrat for progeny, good luck and happiness.
After that, spread a red cloth on the post and sit in front of the idol and image of the mother, make a flour lamp in good mood and light sixteen lamps in it.
After that worship the Mangala Gori Yantra written on Bhojapatra with Ashta Gandhar and Jasmine pen with ingredients of Sola Ladu, Sola Phal, Sola Paan, Sola Cloves and Cardamom along with Sahaag and Sweets in front of Mata.
After that, the mantra- 'Kunkomagralapitanga sarvabharanbhushitam. I offer my salutations to the blue-necked Gori, known as Mangala. Recite the mantra 64000 times.
Now listen to the story of Mangala Gori. After that, perform the Aarti of Mangala Gori with a lamp of sixteen lights.
After hearing the story, give your mother-in-law sixteen laddus and other things to a Brahmin.
(Acharya Indu Prakash is a well-known astrologer of the country, who has extensive experience in Vastu, Ocean Shastra and Jyotish Shastra. You can watch him in predictions every morning at 7.30 on India TV.)
Also read-
Saawan 2023 Ape: Do these 5 things in the month of Saawan, the rain of money will not stop, by the grace of Lord Shiva, sorrow will not even touch you!
Guru Graha Upe: Follow these vastu remedies to strengthen Jupiter in horoscope, life will always be full of wealth, fame and prosperity.
(Tags Translation) Mangla Gori Vrat 2023