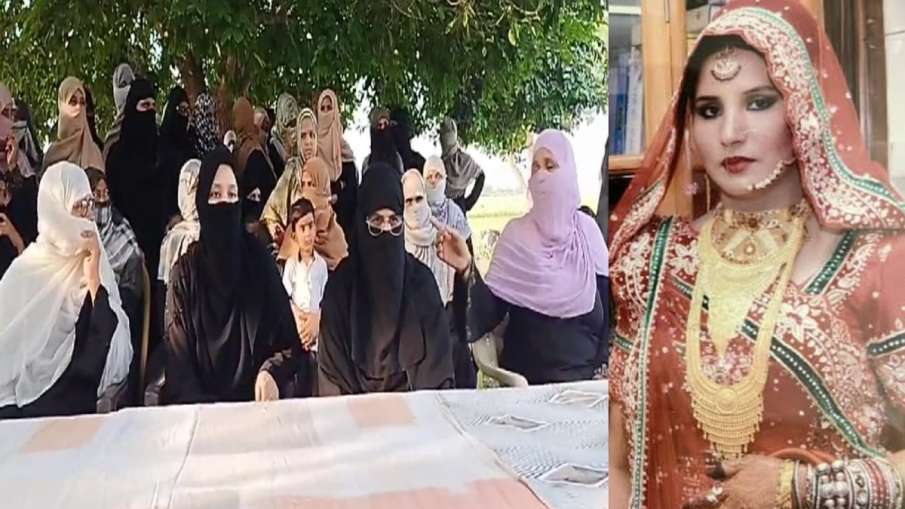 To save Khalid Azeem alias Ashraf, the brother of mafia Atiq Ahmed and his brother Saddam's wife Zainab, the people of Zainab's maternal uncle of Hatwa village have come forward. A dozen burqa-clad relatives who came to Zainab's support called the media to explain about Zainab and Saddam and said the two siblings were innocent. No case was ever registered against him. The police often harass people by conducting raids in the village and even send a boy from the house to jail. My uncle called some journalists to Zainab's village Hatwa and told all these things. However, on the meeting of Saddam Ashraf with the shooters in Bareilly Jail and the location of Zainab and Saddam, he only said that he did not know anything. Zainab's relatives also said that Zainab did not meet lawyer Vijay Mishra in Lucknow, a story fabricated. But he had no answer as to who had told him this.
The family says that we do not know where Zainab and Saddam are. He also said that 3 days ago, the police took Zainab's elder sister's son from Hatwa, but the police did not tell the family.
Zainab disappeared before the police arrived.
say Amish Paul murder case Ashraf's wife Zainab was questioned by the police after which she was released. Even after being released, Zainab continued to help the accused. When the police surrounded him, he escaped. Zainab's brother Saddam used to introduce people to Ashraf in Bareilly Jail. It is alleged that he played an important role in Ashraf's meeting with Guddu Muslim, Saber, Arman, Usman, Arbaaz. The Bareilly police had registered a case against Saddam under serious provisions and had announced a reward of Rs 100,000. Since then, both the siblings are away from the police. Often Zainab's location is found by the police near Hatwa village but she disappears before the police arrive.
The women of Atiq's family lack money.
On the other hand, the fugitive women of Atiq's family have run out of money due to the continuous police crackdown, due to which Zainab and Shaista are busy selling the remaining properties at high prices. It was set up by lawyer Vijay Mishra in Lucknow but was busted by the police and Vijay was arrested. The confidence with which Zainab's family is telling the media that Zainab was not with Vijay Mishra clearly shows that Zainab is definitely in touch with her parents. He is fully aware of the activities of Zainab and Saddam. In this case, DCP City Deepak Bhokar says that whatever action has been taken by the police, it has been done on the basis of cases and evidence. On getting some information, the police go to Hatwa village for checking which is a routine task.
The police will also interrogate the women who gave statements. The police suspect that it was on Zainab's request that her family members called some media persons and gave their statement. These people may also be in touch with Zainab and Saddam.
Also read-