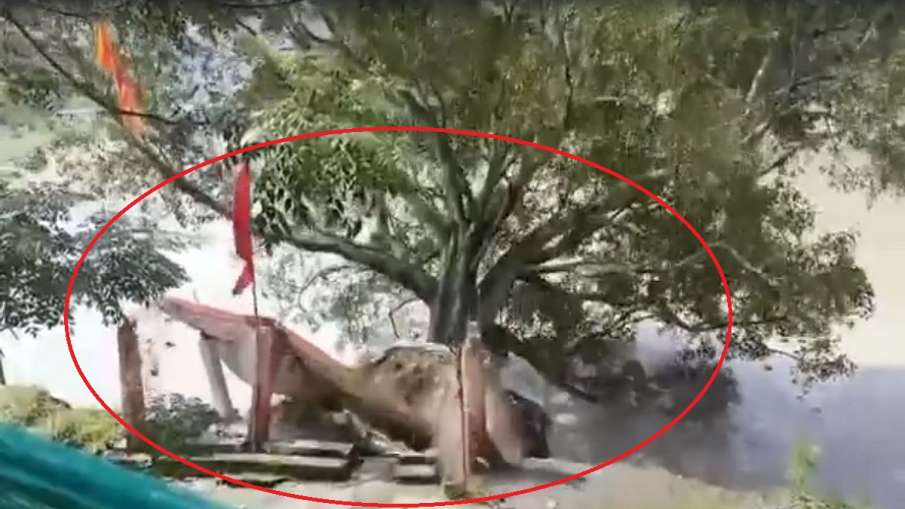 Srinagar (Garhwal): Heavy rains in Uttarakhand in the form of 'calamity'. The clouds have once again turned to disaster. Images of landslides are coming from different places. The latest video is of the old Hanuman temple in Farsu, Srinagar. A 100-year-old Hanuman temple and a banyan tree submerged in the lake in the blink of an eye due to the erosion of the lake created by the Srinagar Hydroelectric Project. The video of the incident was recorded by local people in their mobile phones which is now going viral.
However, this ancient Hanuman Temple The statue installed in 1960 has been installed in a new temple built only a few years ago. Now the families living near the temple are also in fear.
Watch the video-
Building of Defense College in Bharbharkar river
A similar shocking video from two days ago Dehradun had also come to light. Here in Maldives, the college building was submerged in the river due to heavy rain. This is the Doon Defense College building that fell into the river. Due to the incessant rain, the soil beneath the building was heaving, causing the entire building to collapse like a house of cards.
Terrible destruction in many districts due to rain
Let me tell you that due to continuous rain in Uttarakhand, there has been a lot of destruction in many districts. The fear like July is being seen once again among the people. Hundreds of roads have been blocked in both Himachal and Uttarakhand due to landslides. From Rishikesh to Moradabad in UP and also in the northeastern state of Assam, incessant rains have added to the woes of the people. Madam Maheshwar in Rudraprayag district is cut off from other parts of the state. Around 200 people have been trapped here due to the collapse of a footbridge near Bintoli. Some of the passengers were rescued yesterday but still around 150 to 200 people are stuck there. Today the stranded people will be rescued by helicopter. SDRF and DDRF teams are on the spot.
(Report – Sunil Pandey)
Also read-
Latest India News
Srinagar Hanuman temple submerged in lake