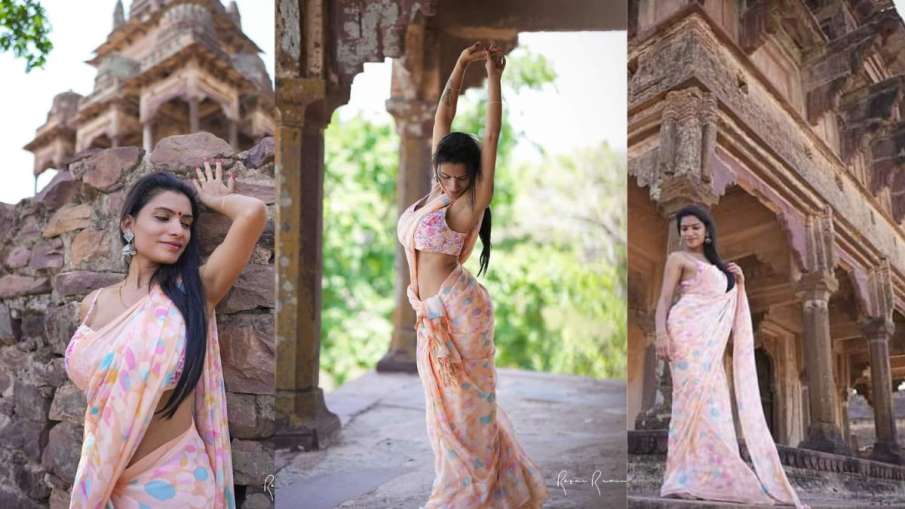 A mature actress and model Reshmi Nair had a raunchy photo shoot in the premises of the Hanuman temple of the famous historical Gadhaphra fort in Sagar district of Madhya Pradesh. There was an uproar over this controversial photo shoot of the adult actress. Hindu organizations have demanded registration of an FIR against the adult actress and her associates. Hindu organizations say the complex houses the famous Hanuman temple and Angad Devi temple, with which people's beliefs are linked.
Take semi-nude pictures at the Ring Mahal and post them on social media.
It is being told that South Indian model Reshmi Nair arrived in Sagar in the month of July and along with her team took semi-nude pictures at the Ring Mahal of Gadhaphra Fort in Sagar and posted them on her social media platform. In these pictures, I am seen standing 'topless' in Reshmi Rang Mahal. After the picture of the adult actress from the Ring Mahal came to light, Hindu organizations are now protesting strongly.
Shiv Sena also handed over a memorandum to the police
Let us know that there are two famous temples of Hanumanji and Angad Deviji in Gadhaphra fort complex of Satna. So far Reshmi has posted all the photos taken here, most of them are of Sheeshmahal, Baradari and Rangmahal. Along with this, Shiv Sena workers have also submitted a memorandum to the Additional SP of Madhya Pradesh, demanding registration of an FIR against adult actress Reshmi Nair.
(Reporting by Tikram Thakur)
Also read-
(Tags Translation)Mature Actress