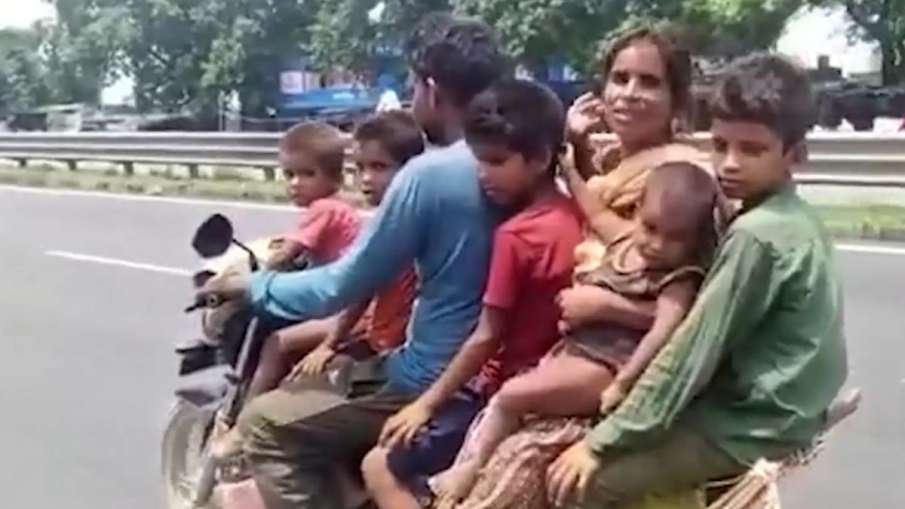 Onlookers were shocked to see a young man in Uttar Pradesh's Barabanki taking his bike on the road. The rule is that you cannot fit more than two people on a two-wheeler, but this brother was taking his entire family on a bike. Not 2-3 people but seven people were riding the bike. Someone recorded the video of this incident and made it viral on social media.
7 people are sitting on the bike.
Tell that there is no seating for more than 5 people in the car. But Bhaiya has kept his wife and five children on the bike. The viral video is said to be of the Lucknow-Ayodhya highway near Mohammadpur Chowk in Nagar Kotwali area. Where the young man was going from Barabanki to Lucknow. It can be clearly seen in the video that the child sitting in front of the bike is also sleeping and he is also trying to sleep with his head on the handle. In such a case, it can be clearly said that this carelessness of the youth can be fatal for the whole family.
Eagles are not coming carelessly.
Earlier, there have been several incidents where vehicles have met with accidents due to overloading. But still people are not stopping their actions. Police is taking strict action but still people are flouting the rules openly. Risking your life on the highway is not a smart thing to do. Even if the balance of the bike is accidentally lost, you may have to bear the consequences.
Also read:
Video: Bhai Sahib went to fight two bulls as Chaudhry, the bull picked up the auto and slapped him.
After getting the job for a long time, the man resigned on the first day of the job.