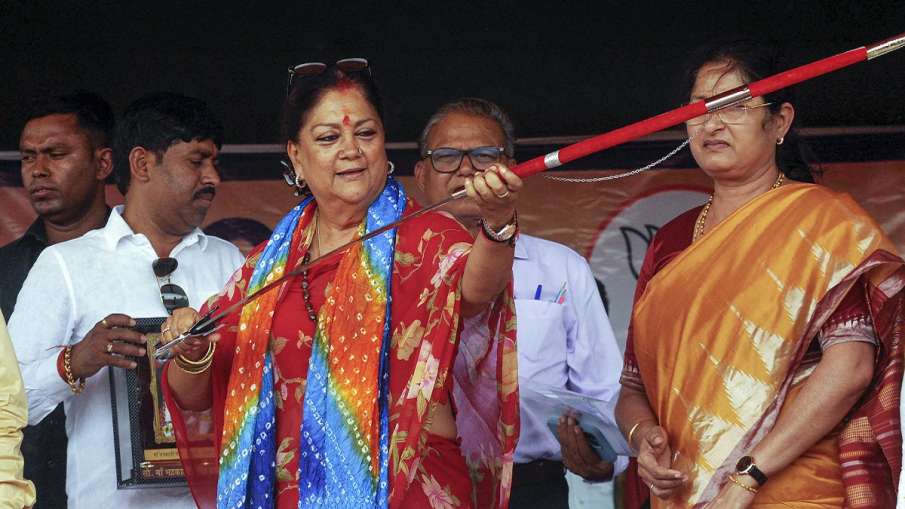 Jaipur: When the party did not include Vasundhara Raje Scindia in the recently announced state election management committee and state resolution letter committee, it has been continuously demanding the party high command to clarify its political role in the assembly elections in Rajasthan. , so his supporters were quite disappointed. But seeing his stature, as the party high command signaled to turn its attention to Vasundhara Raje Scindia in its 'conversion yatra' against the Gehlot regime, the enthusiastic former Rajasthan Chief Minister Vasundhara Raje Scindia, Chief Minister Scindia A direct front has been opened against Ashok Gehlot.
The transformation pilgrimage will start from 4 major religious places.
Actually BJP Ashok Gehlot Against the government, it has been decided to withdraw four different pilgrimages from four major religious places of the state in the month of September. All four tours will conclude with a rally by Prime Minister Narendra Modi in Jaipur on September 25. It is being told that Union Home Minister Amit Shah will flag off the first Yatra Yatra from Trinitra Ganesha Temple in Sawai Madhopur on September 2 and the party has assigned the task of leading the Yatra to former Chief Minister Vasundhara Raje Scindia.
BJP's second conversion yatra will be flagged off by party national president JP Nadda on September 3 from Baneshwar Dham in Dungarpur and will be led by BJP's Rajasthan state president CP Joshi. Defense Minister Rajnath Singh will flag off the third Yatra from Ramdeora in Jaisalmer on September 4, led by Union Minister Gajinder Singh Shekhawat. Union Minister Nitin Gadkari will flag off BJP's fourth yatra on September 5. The fourth Yatra will start from Gogamedi in Hanumangarh and will be led by former state president Satish Punia.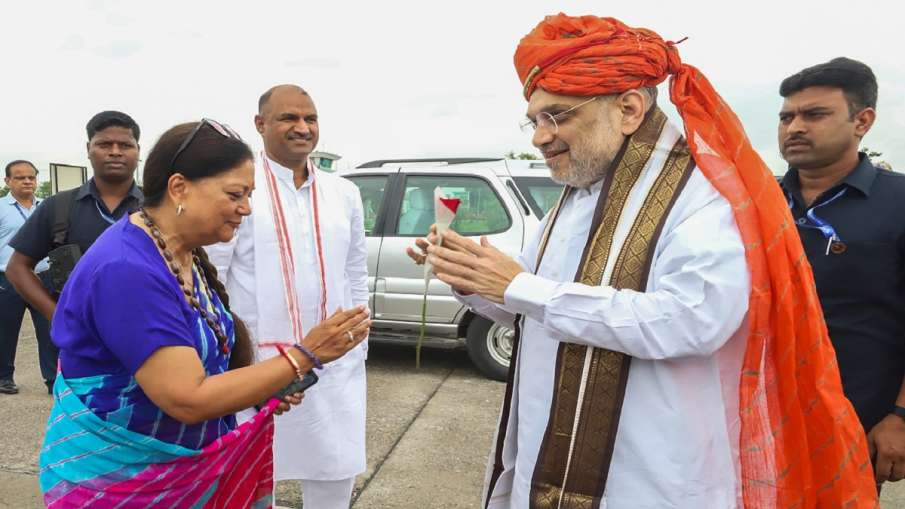 Vasundhara Raje Scindia, Amit Shah
Gehlot on target of Vasundhara
Emboldened by the attention given to the change yatra by the party high command, Vasundhara Raje Scindia has opened a direct front against state Chief Minister Ashok Gehlot. Taking a swipe at the Gehlot government on Thursday, Vasundhara tweeted, "Today even after 10 days there is zero water inflow in the Ganga canal, when crops need more water. Farmers are on strike. Last 15 days." passed but till today the government did not take care of them, the government could have resolved their sorrows by sending a delegation or correspondence regarding the problems of the farmers, our government has also done it many times, when will the government do it? Solve the problem of food providers, when will the government listen to the plight of farmers?
The day before Wednesday Vasundhara Raje While raising a question on Gehlot's 2030 vision, he asked, Chief Minister, which 2030 vision are you talking about? In the 2018 elections, you did not fulfill the promise of farmer loan waiver and youth unemployment allowance, you promised. Make the state topper but in crime against women, unemployment, inflation and corruption you leave it as number one in exam paper leak.
Vasundhara predicted that the people of Rajasthan would show Gehlot the stars by day, adding, "Congress took five-and-a-half years to take credit for what the BJP government did." 80,000 in debt to the electricity department." More than one crore rupees and the people of the state are facing power cuts, before talking about 2030, if the Chief Minister had seen the report card of the last 4 years. Perhaps they were not dreaming like this. The stars are going to show."
Also read-
Rajasthan Assembly Election 2023 t) Nitin Gadkari