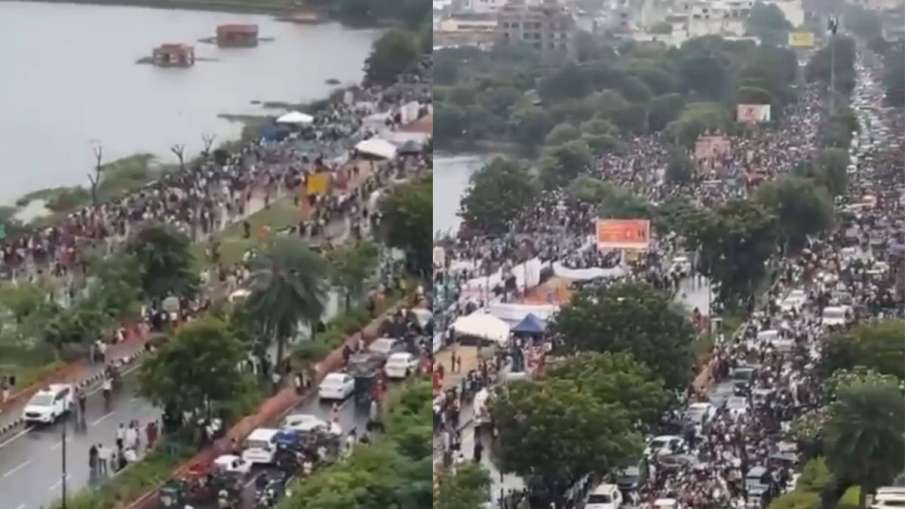 A huge crowd was seen at Jal Mahal Pal in Jaipur yesterday. According to information, there was a three-day Air Force Surya Karan Air Show, which people had come to Jal Mahal Pal to witness, but bad weather spoiled the whole fun. Let us tell you that since it was the second Sunday and the weather was pleasant, people started going from Jal Mahal Pal towards Nahargarh Pahari through this route, due to which quite a crowd was seen here. On normal days it is never as crowded as you see in the video. In this video, the swarm appears to be about 1.5 to 2 km long.
Came to see the air show.
Let us tell you that the Air Force's 3-day Surya Kiran Air Show continued for two days, which was witnessed by a large number of people, but the show could not be completed due to bad weather. Jalmahal Pal is not crowded on normal days but when the weather is pleasant, people come for sightseeing and photography. Since it was Sunday and the weather was good, people came to see the show. Let us tell you that there is a holiday on the second weekend of the month, so there was a huge rush of people going to Nahargarh and Amer from Jalmahal. Due to the crowd, the situation became such that there was a long traffic jam on the road. A large number of two-wheeler drivers, including an ambulance, got stuck in the jam. At the same time, traffic was stopped during the air show due to which traffic was jammed on both sides of Jalmahal from Amrir Valley.
Hawk planes performed stunts.
It should be noted that last Friday, 9 Hawk planes of the Air Force performed tricks in Jalmahal. Meanwhile, there was a huge crowd on Ameer Road to watch Surya Karan's air show. Let us tell you that the Surya Karan Aerobatic Team performed their air show for almost an hour. Let us tell you that this air show was organized to create awareness about the Indian Air Force among the younger generation. Common people and students from Jaipur city and surrounding areas were invited for this.
Also read:
Faceless BJP in Rajasthan! Vasundhara Raje kept his distance, know what is the reaction to the change yatra?