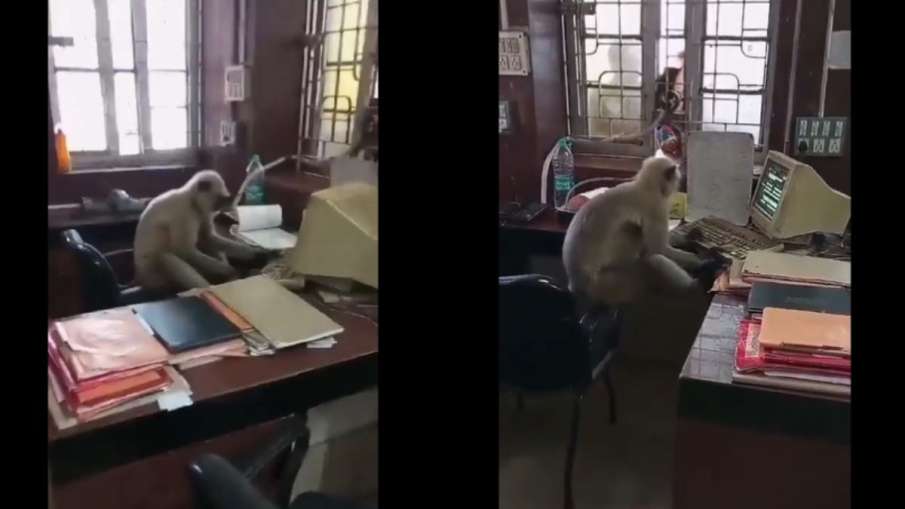 Social media should be given another name 'entertainment house'. Every day there are many such videos to be seen here, after watching which even the biggest stress is removed. Sometimes you get to see strange behavior of people on social media and sometimes you get to see funny animal videos that lighten your mood. Even now one such video is going viral, after watching which your mood will surely lighten.
Mama Monkey took charge.
Whenever you go to any office, you will always see some male or female officer sitting on the department chair. Apart from him, you would not have seen anyone else sitting on this chair. But today a video is going viral on social media in which a monkey is sitting on a department chair and enhancing its beauty. Also, in the video, you can see that he is fiddling with the computer keyboard on the table there. After watching the video, you will feel that this monkey is fully engaged in his work. However, it has not been confirmed which department it is.
Watch the viral video here
People made funny comments.
This video was shared by the page @Educators of Bihar on microblogging platform X (formerly Twitter). The caption along with the video read, 'Candidates waiting is over, now the result is coming.' By the time of writing, the video has been viewed by 135,000 people. After watching this funny video, a man wrote – He is sitting at the ticket counter, tell me where do I want the ticket? Another person wrote – We are considering the candidate's objection.
Also read-
Delhi Metro becomes mobile 'GYM', man challenges uncle to do 'push-ups', gets stern reply
Ganapati Bappa Maurya: Dog touches Lord's feet and gets Modak, video goes viral on social media