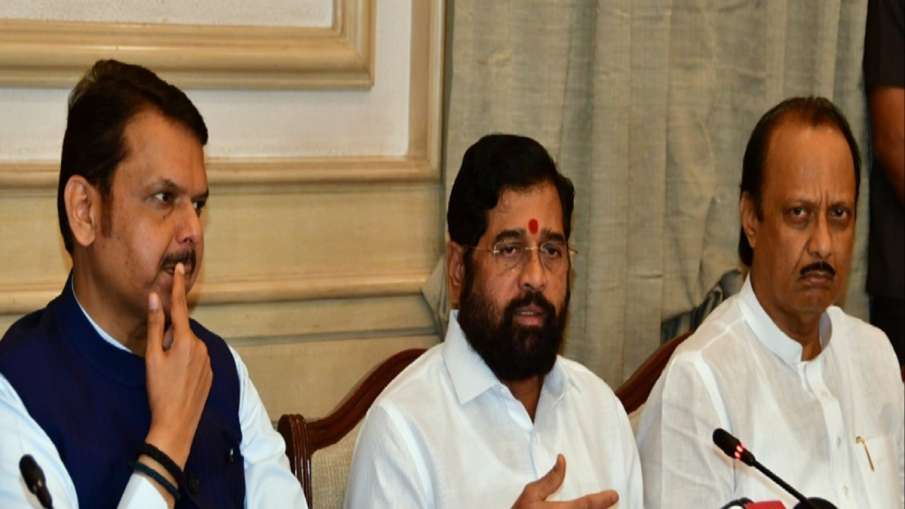 New Delhi: There has been a stir in Maharashtra politics once again. It is reported that Deputy CM Ajit Pawar has become angry. Meanwhile, CM Eknath Shinde and Deputy CM Devendra Fadnavis are meeting Home Minister Amit Shah in Delhi. According to reports, there will be a discussion on the expansion of the cabinet in Maharashtra and the situation in the state and the Eknath Shinde faction is being heard in front of the assembly speaker. The Supreme Court has also given two weeks' time to the Speaker Assembly for disqualification.
Political meaning of Ajit Pawar's absence?
Ajit Pawar's absence from the Cabinet meeting once again signals a new equation in Maharashtra politics. Absence of Ajit Pawar, who is punctual and punctual in his work, in today's cabinet meeting has raised several questions. During his political and ministerial tenure, Ajit Pawar was hardly absent from Mumbai. The first discussion in the cabinet meeting today was on the 24 deaths recorded in a single day at the government hospital in Nanded. These deaths have once again exposed the mismanagement of the government hospital.
It is noteworthy that this hospital comes under medical education and the minister of this department is Hasan Musharraf. Hasan Musharraf belongs to Ajit Pawar group. The responsibility of providing medicines lies with the Department of Public Health, whose minister is Tanaji Sawant. Tanaji Sawant Eknath Shinde is a group minister. A three-member team has been constituted to investigate whether the cause of death is lack of essential medicines or absence of a doctor, nurse or anything else. The Chief Minister ordered to submit the report soon.
A few months ago, when 18 patients died in a single day at the Thane hospital, Nationalist Congress MLA Jitand Oher of Sharad Pawar's faction questioned CM Eknath Shinde.
Sources reveal that Ajit Pawar had asked Chief Minister Eknath Shinde in a cabinet meeting about what was going on in his Thane city hospital. At this Eknath Shinde laughed and avoided. Devendra Fadnavis, who was there at that time, also intervened and took the discussion in another direction. But the effect of this dispute was that a cold war started between Ajit Pawar and Chief Minister Eknath Shinde.
Cabinet expansion can happen in a few days.
According to the sources, the third expansion of the cabinet may take place in a few days. There are 14 ministerial posts left. In which Ajit Pawar is demanding that his group be given a cabinet and 2 minister of state posts. There, Ajit Pawar is seeking the post of the guardian minister of Pune. There, senior BJP leader Chandrakant Dada Patil is the patron minister. It is noteworthy that Ajit Pawar has a grip on the administration. He has deep experience of being a minister for many years and working in many ministries.
It is said that even though Eknath Shinde is the Chief Minister in the current government, important decisions of the government are not taken with the consent of Deputy Chief Minister Devendra Fadnavis. Now that Ajit Pawar is also part of the government and since he holds the Finance Ministry, Ajit Pawar continues to interfere in every department. Ajit Pawar had recently said during his visit to Baramati that today he has the post of Finance Minister. They are in government. I don't know if it will be there tomorrow or not. Who has seen yesterday?
Also read:
Delhi: In the case of theft in the showroom of Umrao Jewellers, the Raipur court handed over the accused Lokesh to the Delhi Police, jewelery was also recovered.
Major action against National Liberation Front of Tripura and All Tripura Tiger Force declared illegal organization by Government of India
Latest India News