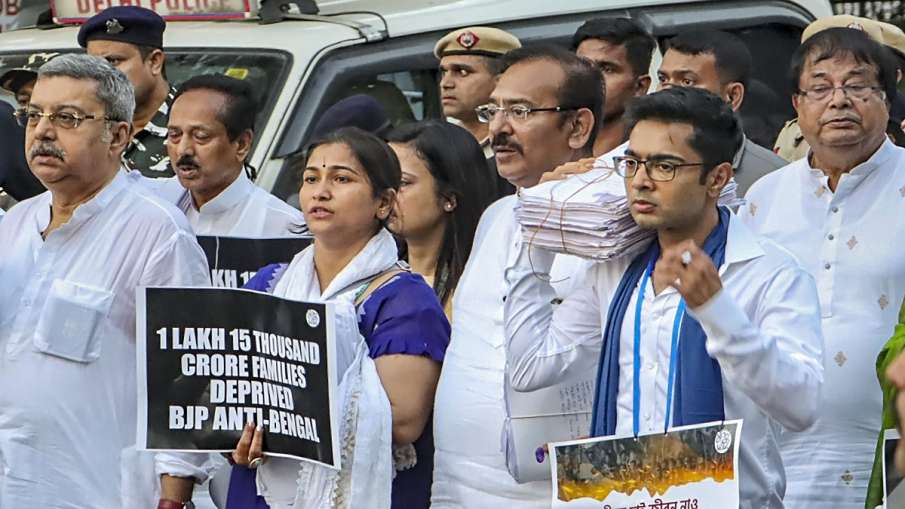 New Delhi: The Trinamool Congress staged a massive demonstration in Delhi under the leadership of Trinamool Congress (TMC) leader Abhishek Banerjee. However, some TMC leaders protesting inside Krishi Bhavan have also been detained. During the protests, Abhishek targeted the Centre, alleging that it tried to intimidate the protesters who had gathered in the national capital to pressure West Bengal to release funds. A day after staging a two-hour dharna at the Raj Ghat here on Mahatma Gandhi's birthday, Banerjee along with TMC MPs, MLAs and state ministers and supporters along with MNREGA workers demonstrated at Jantar Mantar in the national capital. What did
TMC national general secretary Banerjee said, "They sent around 5,000 to 10,000 policemen, RAF and other forces to stop 50 TMC leaders. The number of security personnel here today is It looks like there is a war between India and China.
He was accompanied on stage by other party leaders who held placards in their hands. He also mentioned Manipur and said that violence continues in this northeastern state, but the central government (here) is focusing on stopping the protesters. The TMC leader accused the Central government of trying to intimidate the protesters and said that despite all efforts, the Center could not stop the TMC.
The ruling TMC in West Bengal has accused the BJP-led National Democratic Alliance (NDA) government of giving Rs 15,000 crore to the state under the Mahatma Gandhi National Employment Guarantee Act (MNREGA) and the Pradhan Mantri Awas Yojana. At the same time, the BJP alleged that the TMC was doing 'drama' in Delhi to divert attention from the scams in West Bengal.
Mehwa Moitra made these allegations
Krishnanagar MP Mehwa Moitra alleged that the Center was collecting taxes from Bengal, but not paying dues to the state. The TMC leader said, 'We have not come here to beg, but to demand our rights. Mamata Banerjee is fighting not only for Bengal but for the entire country.
"All those who are close to BJP and Modi ji are not working as labourers," he alleged. These are the poor people who worked but were not paid. 11 lakh people entitled to get houses under the housing scheme did not get the money. Demanding the release of funds from the Centre, Bengal Rural Development Minister Pradeep Majumdar said that Union Rural Development Minister Giriraj Singh had assured on November 7, 2022 that the funds would be released.
Majumdar said, 'There is no difference between the people of Begusarai (Giri Raj's constituency) and the poor people of Bengal.' TMC leaders are scheduled to meet Union Minister of State for Rural Development Sadhvi Niranjan Jyoti as Giriraj Singh is not in Delhi. (input language)
Also read:
Stirring again in Maharashtra politics, Ajit Pawar angry, Shinde-Fadnavis meet Amit Shah in Delhi
Delhi: In the case of theft in the showroom of Umrao Jewellers, the Raipur court handed over the accused Lokesh to the Delhi Police, jewelery was also recovered.
Latest India News