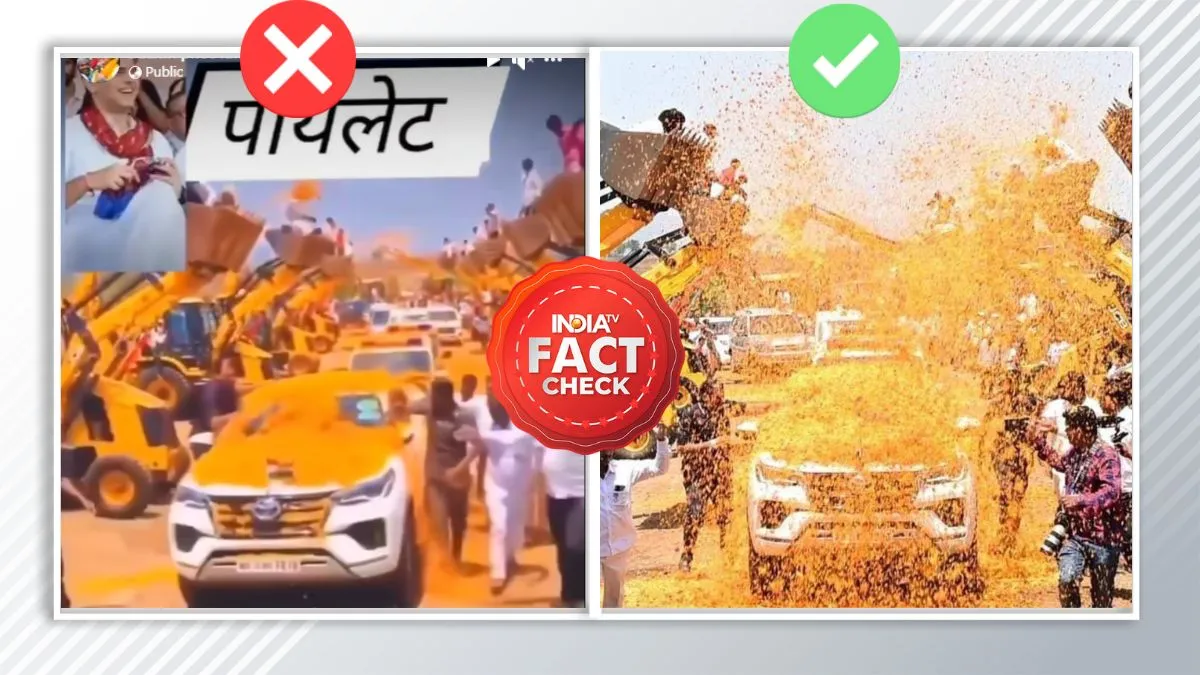 India TV Fact Check: Voting for 200 assembly seats in Rajasthan is scheduled for November 25. All the politicians are campaigning vigorously before the voting. During this time, pictures of the grand reception of the leaders are common. A video of one such grand reception is going viral, in which flower petals are showered on the convoy of a politician from JCB. Along with this video it is claimed that these flowers from JCB were showered on Sachin Pilot during a roadshow in Dossa. But our fact check revealed that this video is not of Sachin Pilot but of Maharashtra CM Eknath Shinde's convoy.
What's going viral?
The video reel was shared on 13 November 2023 by a page called Sachin Pilot Fans on Facebook. The caption accompanying the video reads, "Flowers showered on Sachin Pilotji from JCB at Dosa." In this video it can be seen that a leader has a long convoy on which some people are showering flowers from JCB. With this video, it is claimed that Sachin Pilot's convoy was passing through Dosa, where people showered flowers on his convoy from JCB.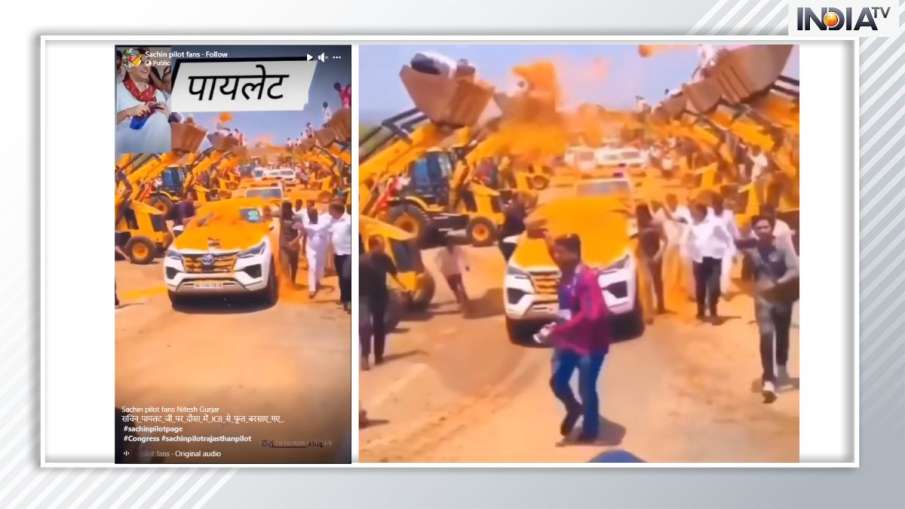 This reel is going viral on Facebook.
India TV checked the facts.
When we looked carefully at this video, the number plate of the Toyota Fortuner car seen in it had MH written on it. That is, the main vehicle in the convoy belongs to Maharashtra. After that in the corner of the video is seen written in fine letters – EKNATH SHINDE FANCLUB. It means this video has been posted by Maharashtra Chief Minister Eknath Shinde's fan page.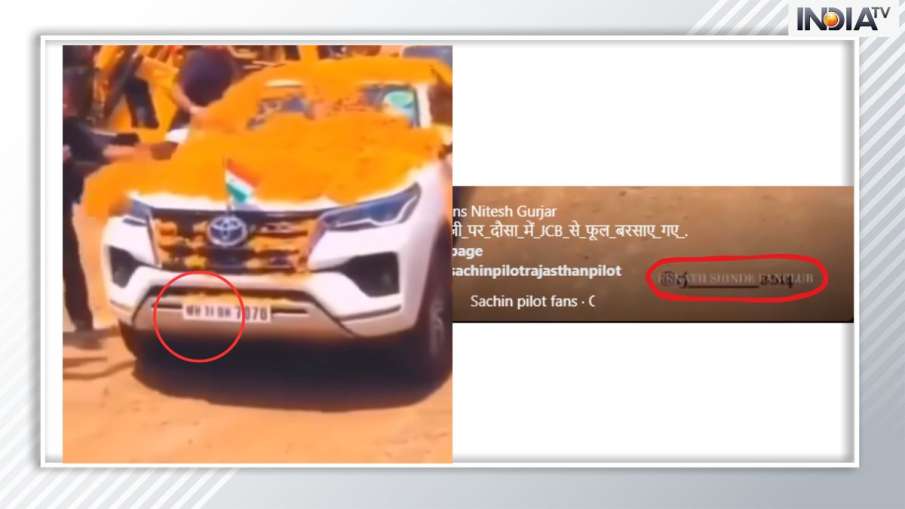 The watermark of MH number vehicle and Eknath Shinde's fan club is visible in the video.
After that we searched for social media accounts named eknath_shinde_fanClub on Google. Meanwhile, an Instagram account with that name appeared at the top. We clicked on it and started searching for posts related to the viral video. After searching for a long time we found this viral video which was posted on this account on May 14th. In this video, it is clearly seen that the vehicles have Maharashtra number and CM Eknath Shinde is sitting in one of the vehicles and not Congress leader Sachin Pilot.
The video is accompanied by a caption in Marathi language, "Chief Minister Eknath Shinde Sahib. Ta. Patan G. Satara Madhye Aps Sahresh Swagat" (Welcome Chief Minister Eknath Shinde to Satara district). Searched. Keywords on Google. Searched for any such news related to Shinde. Through Google search we found a news on ABP Marathi website in which the same video of Eknath Shinde was posted. This news was published on May 13, 2023. The headline of this news reads- CM Eknath Shinde Satara: 8 JCB Cha Tafa, Flower Petals Showered on Chief Minister, Star Welcome (8 JCB Fleet, Flower Petals Showered on Chief Minister) done, a warm welcome at Stara)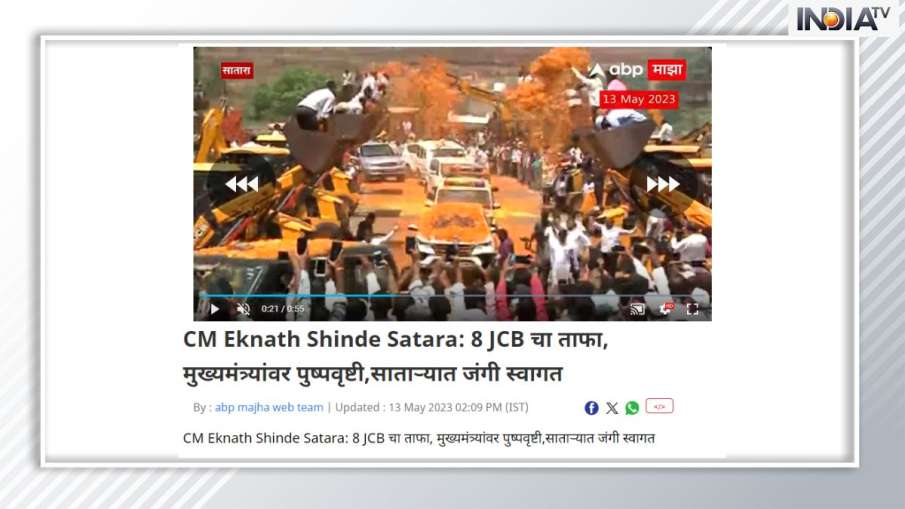 Eknash Shinde welcome news found on ABP Marathi website.
The news reported that when Maharashtra CM Eknath Shinde visited Satara district in the month of May this year, Shinde's supporters showered him with flower petals at 8 JCB.
What did the investigation reveal?
When India TV checked the viral video, this came to light The viral video is not about Rajasthan elections or Sachin Pilot. Rather in Satara, Maharashtra This is to welcome CM Eknath Shinde.
Also read-
Fact check: Video of BJP workers tied to tree is 3 years old, not related to Rajasthan elections.
Fact Check: Digvijay Singh Says No – There's Nothing Wrong With Eating Beef, Claim Turns Out To Be Misleading