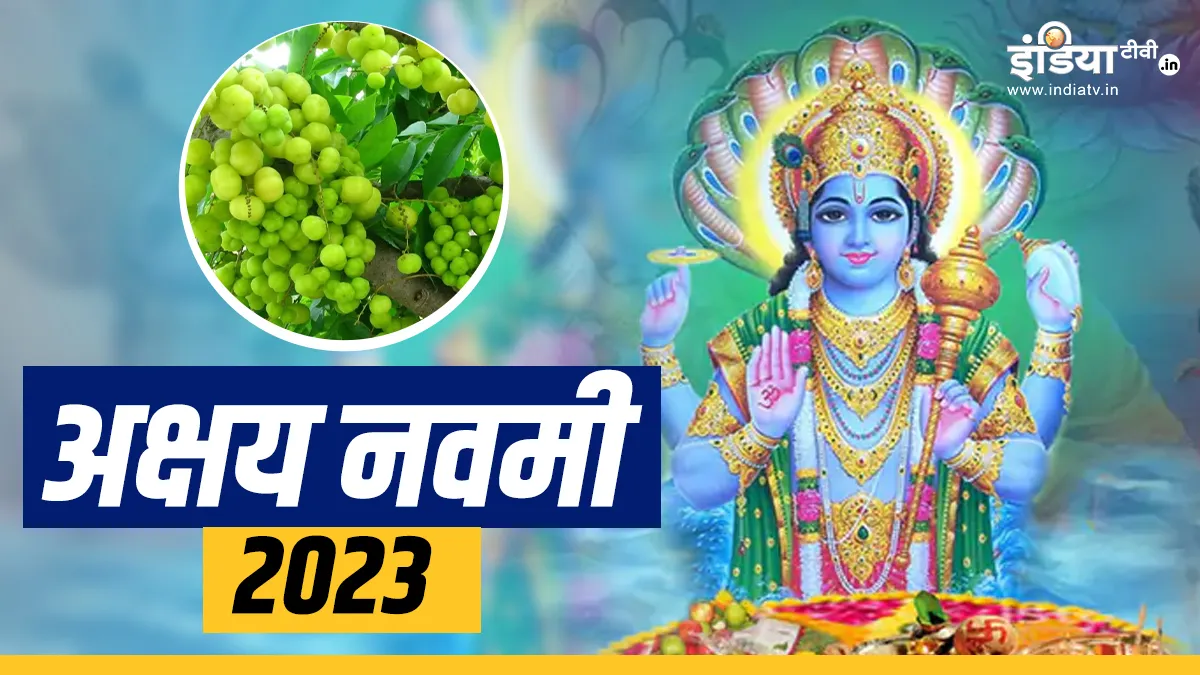 Akshay Noomi: Tomorrow is the ninth day of Shukla Paksha of Kartik month and it is Tuesday. Akshay Nomi's fast will be observed tomorrow. Akshay Nomi, celebrated exactly 10 days after Diwali, has great significance in the scriptures. In the Puranas, this day is considered to be the beginning of the Dupar era. Akshay means uncorrupted. The work done on this day gives lasting results.
It is also known as Good Nomi, Amla Nomi, Kushmand Nomi, Arogya Nomi and Datri Nomi. The merit of fasting on the day of Akshay Nomi in the month of Kartik is the result of happiness, peace, harmony and the development of children. On Amla Nomi day, there is a tradition of worshiping Lord Vishnu and the Amla tree in particular. Let's know from Acharya Indu Prakash about Akshay Nomi Pooja Shab time of Kartik month and its Pooja procedure and also know about the significance of this day.
Shri Vishnu killed the Kushmand demon.
It is mentioned in the scriptures that on the day of Akshay Nomi, the cruelty of the demon Kushmand was ended by Lord Vishnu, after which the Kushmand vine grew out of the demon's hair. That is why it is also called Kushmand Naomi. Kushmand is commonly known as pitha or pumpkin from which the vegetable is prepared. On this day one should donate kushmand i.e. pitha. Along with the donation, one should also perform the pooja with the fragrance of cashew nuts, flowers and Akshat etc. It gives excellent results. Apart from Kushmand Noomi, Jagatdhatri Mata is also worshiped in Orissa today. Jagatdhatri is a form of Mother Durga. Today, from the day of Akshay Nomi, Mathura Pradakshina i.e. the circumambulation of Mathura also begins.
Suitable time to worship Akshay Nomi
Akshay Nomi Fast of Kartik Month – Tuesday, November 21, 2023
Timings of Akshay Nomi Pooja and Fasting – 21 November 2023, Tuesday, 6:48 AM to 12:07 PM.
Akshay Noomi Pooja Duration – The total duration of the pooja on this day is 5 hours 19 minutes.
Method of Akshay Noomi Pooja
Lord Vishnu is worshiped on Akshay Nomi. First of all, take bath in Brahma Muhurat in the morning.
On the day of Akshay Nomi i.e. tomorrow, you should go to a pilgrimage site and bathe, but if you cannot go far, take a bath at home with a little Ganges water added to your bath water. This will give you renewable fruits.
Put on clean clothes after bathing. Take the Ganga water in your hand and do Achamana.
After that, decide to fast on Kartika's Akshay Nomi for the sake of Lord Vishnu.
After vowing to fast, offer water to the amla tree and make sure your face is towards east.
After that circumambulate the amla tree seven times and tie a red or yellow kulha around it.
After that worship the Amla tree and salute Lord Vishnu with folded hands.
Along with this you should recite Vishnu Sahasranama, it will give you eternal merit and happiness and prosperity in your home by the grace of Shri Hari.
(Acharya Indu Prakash is a well-known astrologer of the country, who has extensive experience in Vastu, Satran Shastra and Astrology. You see him on India TV every morning at 7.30 AM.)
Also read-
After all, what is the reason for not blowing the conch in Badrinath Dham? This is the religious belief behind it.
On whose advice did Lord Rama worship Surya before defeating Ravana in the war? Know the whole reason behind it.