IND vs Australia World Cup 2023: The final match of the ICC Cricket World Cup 2023 was played between India and Australia at the Narendra Modi Stadium in Ahmedabad on Sunday. However, the Indian cricket team missed out on winning the World Cup trophy and the Australian team once again became the winners of the World Cup. After losing the World Cup, the Indian team looked very broken, in such a situation, from Deepika Padukone to Vicky Kaushal, all the Bollywood celebs have become the courage of the Indian cricket team. These stars have encouraged the Indian team by posting on social media.
Ranveer-Deepika praised Team India.
India could not win the World Cup Final but Team India showed their best performance throughout the tournament. Showing her support for Team India, B-Town actress Deepika Padukone shared a photo of the tricolor of the national flag on her Instagram story. There, Ranveer Singh wrote that everyone is saddened by the defeat of Team India, but their performance has been commendable. Ranveer wrote, "Sometimes high, sometimes low, some good days, some bad days. Win some, lose some. That's the game. That's life. We're all disappointed, but let's appreciate our boys who gave it their all." "Given."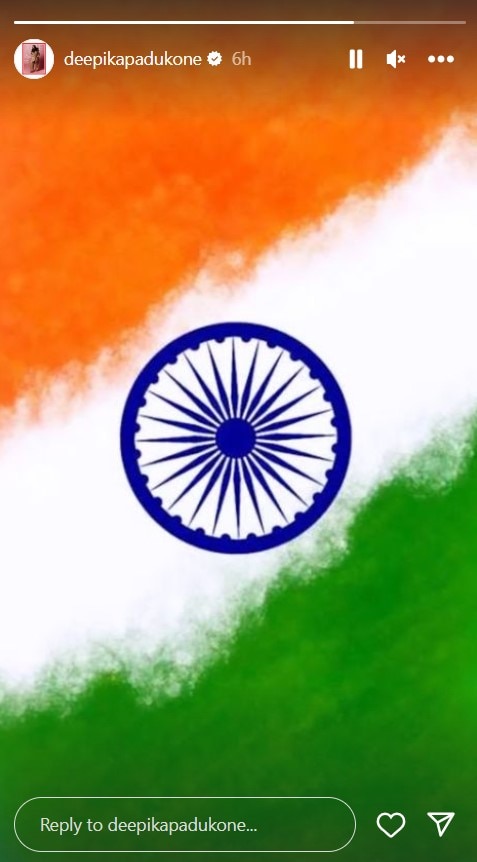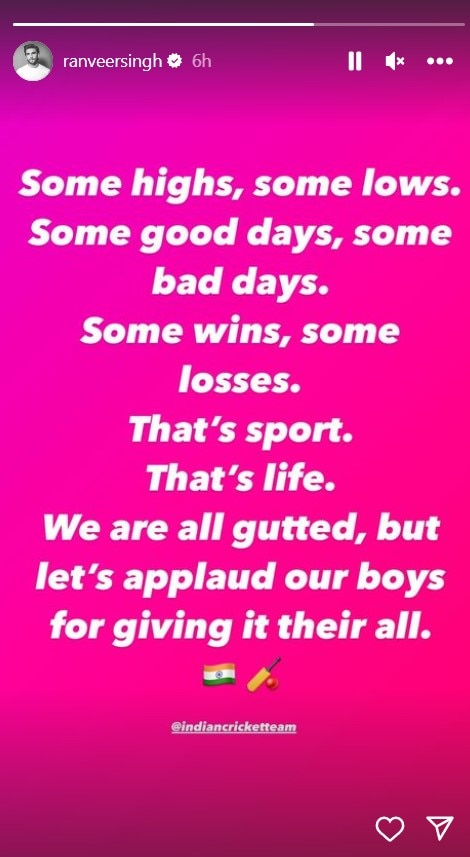 Vicky Kaushal called Team India the best team.
Meanwhile, Vicky Kaushal also praised the Indian cricket team and wrote that it is the best team. Vicky wrote, "Still the best team out there. The skill, character, grace and grace shown by Team India in this CWC is admirable. Always proud of you guys! India… INDIA!!! "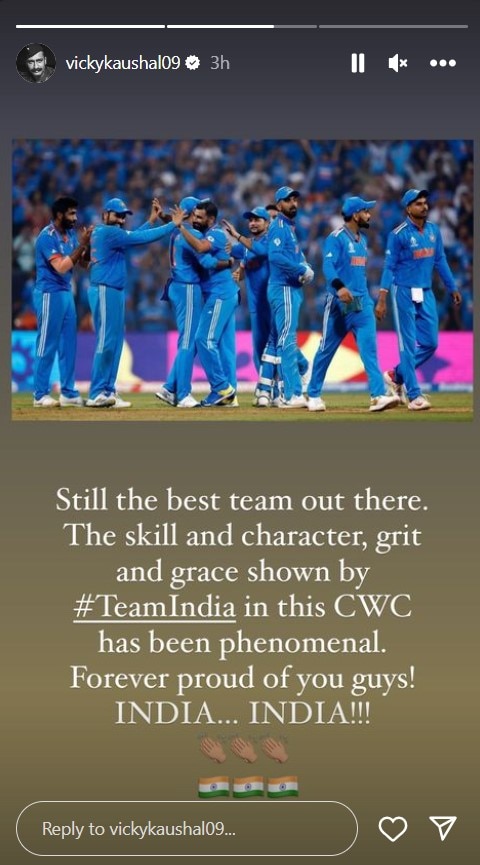 Esha Delo is proud of Team India.
Esha Deol also wrote on her Instagram story, "Whatever… We are proud of you! Team India played well.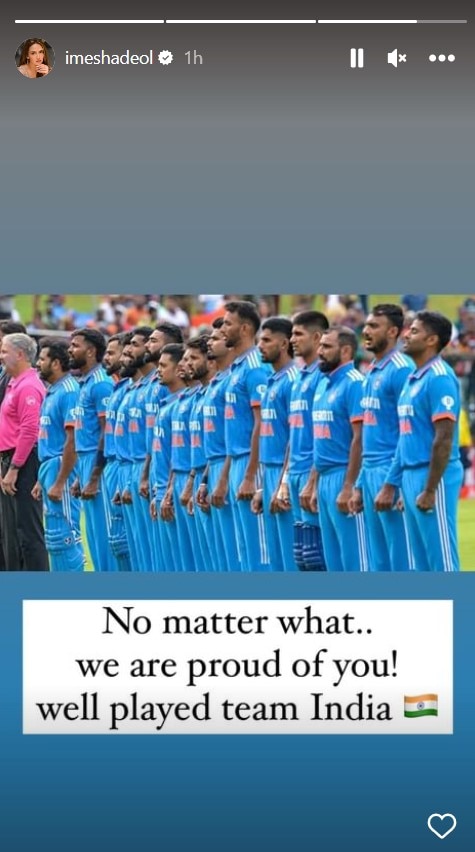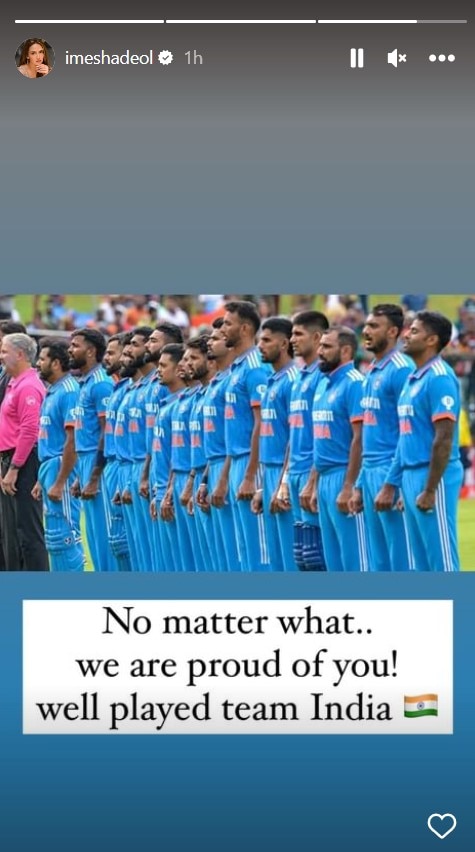 Varun Tej said this for Team India.
After the defeat in the World Cup final, many celebrities from the South industry have also posted on social media to boost the morale of Team India. Varun Tej wrote on his Instagram story, 'Great display of teamwork and skill from Team India throughout the tournament, it's not just our night! You have won our hearts and we are always with you!!! Congratulations to Team Australia for winning the CWC for the 6th time! #BlueForever."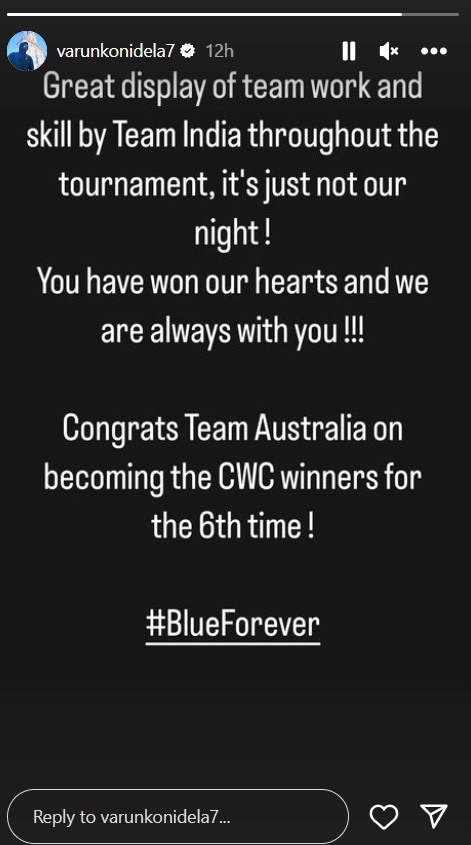 Lavanya supports Team India.
Varun Tej's new bride Lavanya also shared a post on India's Instagram page on India's defeat, writing, 'Despite the fact that we lost, despite the fact that we shed tears today, know what we are about. And how should one be proud? This team has achieved. Know that there isn't a single player on the team who wants that to happen and nobody likes being second, let alone on such a big stage.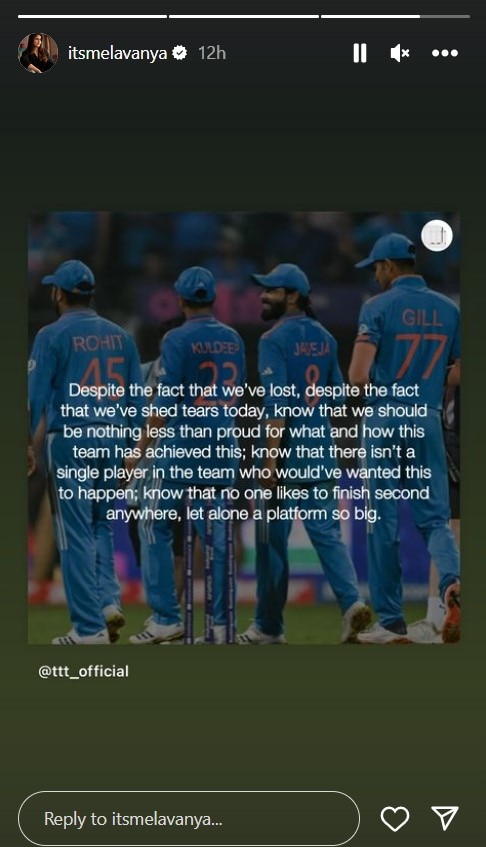 Also Read: World Cup 2023: 'What will they understand about cricket?' Harbhajan Singh's sneer at Anushka and Athiya backfired, with consumers taking a tough class
Deepika Padukone on World Cup 2023 Defeat