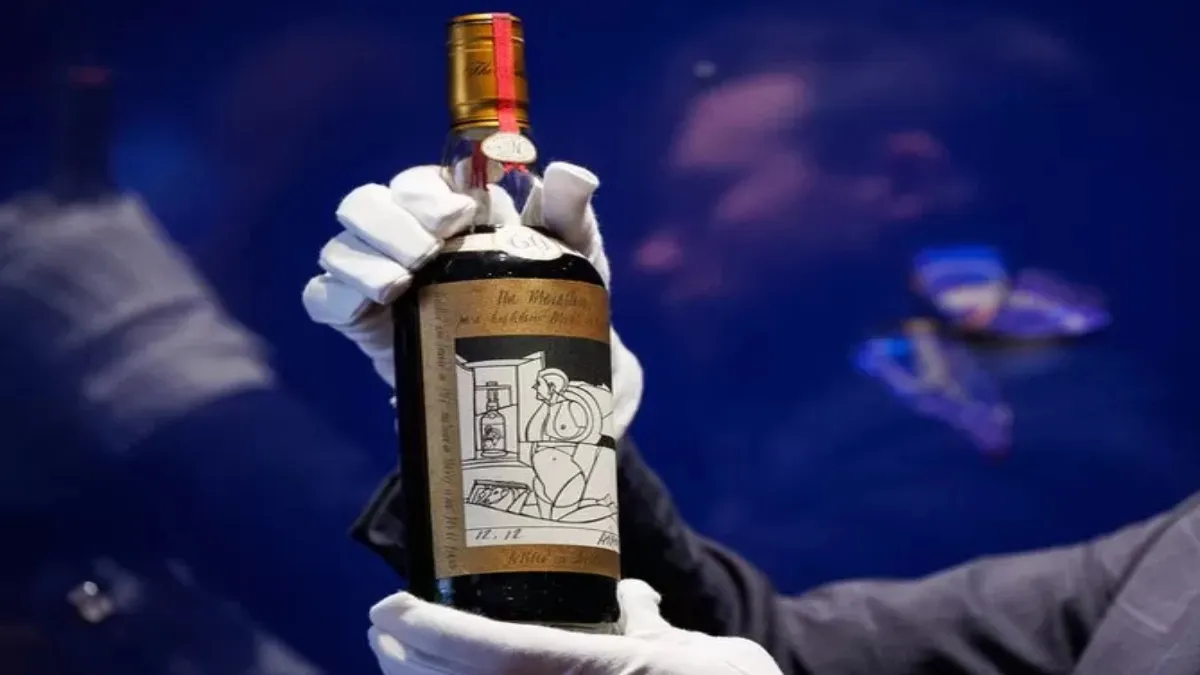 The saying "the older the better" is often associated with wine because the aging process is said to improve its flavor and aroma. When it comes to vintage sales around the world, Macallan's name comes to mind, an extremely rare whiskey that recently set a record at a Sotheby's auction in London. A rare 1926 Macallan single malt whiskey has made history after it was sold at Sotheby's for $2.7 million (roughly Rs. 22 crore). When it was bid for auction, there was a war-like atmosphere.
Sotheby's official Instagram page also shared a glimpse of the rare whiskey with a detailed note, which read, "An auction record for a bottle of whiskey has been set, a rare bottle of whiskey fetching $2.7 million (£2.1 million) – breaking the record for the most expensive wine or spirit ever sold at auction.The Macallan 1926 (featuring the Valerio Adami label) sold for GBP 2.1m/USD 2.7m – a low estimate of approx. Three times as much. The previous record for a fine and rare edition was achieved at Sotheby's in 2019 at GBP 1.5m/USD 1.9m."
Why is whiskey so expensive?
The Macallan 1926 Single Malt is one of the most sought after bottles of Scotch whiskey in the world. The head of the whiskey auction house at Sotheby's said on Saturday that he had already been allowed to taste "a tiny drop". "It's very rich, it has a lot of dried fruit," he told the AFP news agency. Expect a lot of spice, a lot of wood." The whiskey took 60 years to mature in dark oak sherry casks before becoming one of only 40 bottles in 1986.
People made various comments
Many consumers became interested in vintage whiskey after learning about the auction. However, many people wondered what the promotion was all about.
One comment read, "I guess some people consider this a great achievement for all of humanity?"
Some people thought, what is the use of such an expensive drink? "But will buyers embrace it or just sit on it?"
"It's an expensive hangover," read one comment.
Some praised the vintage drink and described it as a "beautiful label".
At the same time, many claimed it to be "unbelievable".
Latest world news.