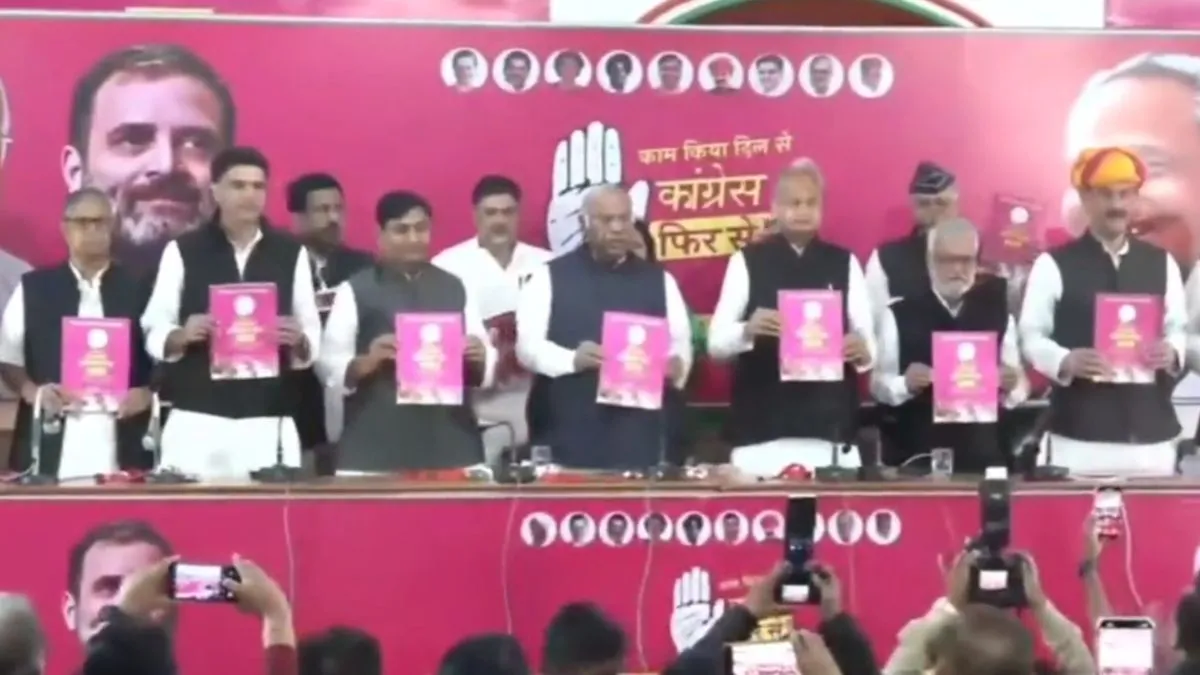 Jaipur: The Congress has released its election manifesto for the Rajasthan assembly elections on Tuesday. The Congress manifesto was released by the party's national president Mallikarjan Kharge in the presence of Chief Minister Ashok Gehlot and other senior leaders. In the election manifesto, the Congress has made several big promises to the people, among them 1 million jobs, 4 lakh new government jobs, and installation of CCTV cameras in public places to protect women.
Many big announcements were also made for the farmers.
The Congress manifesto issued for the assembly elections has promised the public that free monthly coupons will be issued in addition to concessions on travel fares in the state. According to the manifesto, guards will be posted to protect women, MSP for farmers will be legislated, interest-free loans of up to Rs 2 lakh will be given and employment tenure for laborers under MGNREGA will be up to 150 days. will be extended. . Apart from this, the employment period under the Indira Gandhi Urban Employment Guarantee Scheme will also be increased to 150 days.
Rajasthan will vote on November 25.
The Congress in its manifesto has also said that auto and taxi drivers will be included in the Gig Workers Act. The manifesto said that the amount of Chiranjeevi health protection insurance in the medical sector will be increased from Rs 25 lakh to Rs 50 lakh and IVF national package for childless couples will also be included in Chiranjeevi. Let us tell you that assembly elections are going to be held in Rajasthan on November 25, in which the main contest is between the Bharatiya Janata Party and the Congress. After the elections in 2018, the Congress ousted the BJP from power and formed its own government.