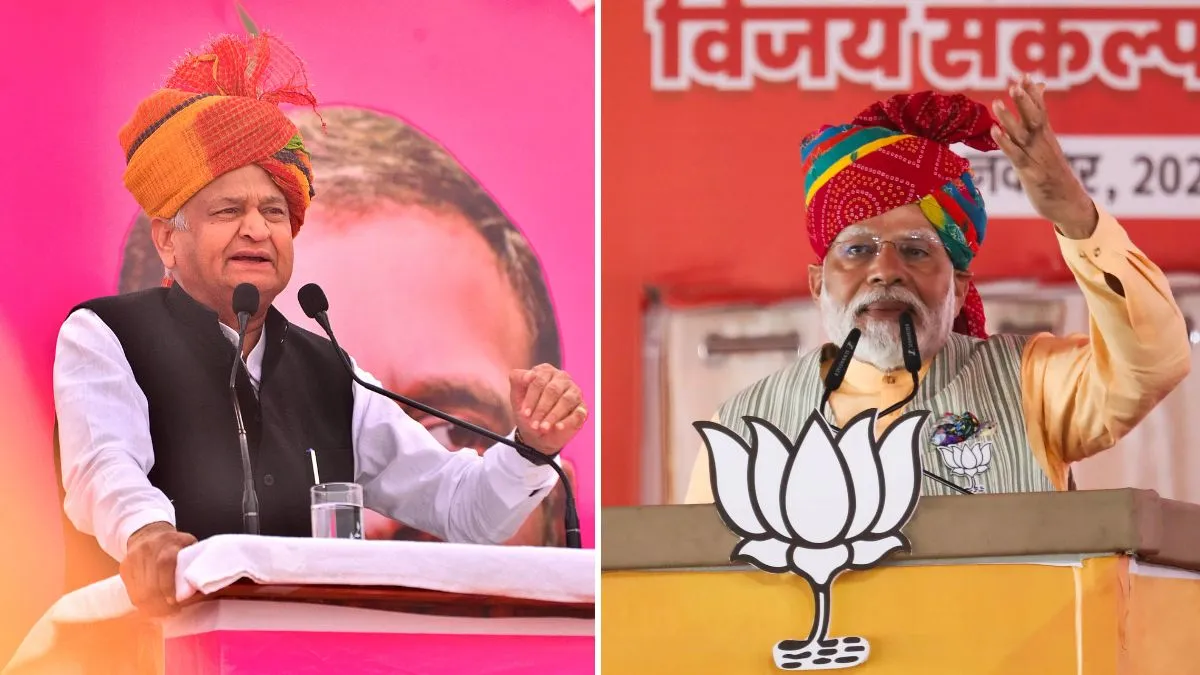 Today is the day of intense action in the Rajasthan election war. While Prime Minister Narendra Modi is going on a roadshow in minority-majority areas, the Congress has released its manifesto. Congress manifesto for Rajasthan came today 4 days before voting. Congress has promised to provide 4 lakh jobs if it comes back to power in Rajasthan. Apart from this, it has also been promised to conduct a caste census in the state and free travel in buses for women. BJP has already released its manifesto on November 17, so let us know who has promised what in Rajasthan elections.
What is in the manifesto of Congress and BJP?
| | |
| --- | --- |
| Congress Manifesto | Manifesto of BJP |
| Promise of 4 lakh jobs | 2.5 lakh jobs promised |
| Promise to conduct caste census | 12 thousand annually to farmers |
| Free travel in buses for women | LPG cylinder for Rs.450 |
Important Points of Congress Manifesto
As per recommendations of Swaminathan Committee, MSP law will be brought for farmers.
The amount of Chiranjeevi insurance will be increased from Rs 25 lakh to Rs 50 lakh.
4 lakh youth will be given government jobs. 10 lakh youth will be given employment.
A new cadre of government jobs will be created at the Panchayat level.
The gas cylinder is currently available at Rs 500, it will be reduced to Rs 400.
With the introduction of the RTE Act in the state, education up to 12th will be made free even in private educational institutions.
MGNREGA and Indira Gandhi civic employment will be increased from 125 to 150 days.
A merchant credit card scheme will be launched to provide interest-free loans of up to Rs 5 lakh to small traders and shopkeepers.
Government servants will be given fourth pay scale series 9,18,27 and officers will be given higher scale.
Villages and towns with a population of up to 100 will be connected by road.
Security guards will be posted in every village and urban ward.
By bringing the Right to Housing Act, housing will be given to all.
The already running schemes will be further strengthened.
Nadda had opened the box containing the BJP manifesto.
Earlier on November 17, BJP national president JP Nadda had released the manifesto at the party headquarters. While releasing the manifesto, the party's national president JP Nadda said that the manifesto is not just words written on paper but it is a sentence for us which we are committed to fulfill. Our history is a witness that we have fulfilled what we promised. We did what was not said.
Important Points of BJP Manifesto
For the betterment of farmers, wheat production will be purchased at Rs 2700 per quintal. Bonus will be given on MSP for this. Apart from this, the lands of the farmers have been confiscated. It will be returned to the farmers.
Women police stations will be opened in every district to protect women. A women's desk will be opened in every police station. Anti-Romeo squads will be formed in every city.
Lado Incentive Scheme- In this, the government will give a savings bond of Rs 2 lakh on the birth of every girl child. 6000 rupees per year will be deposited in her account when the girl child enters the 6th class. 8,000 per annum will be deposited in her account when she reaches 9th class. 10 thousand rupees for 10th class, 12 thousand rupees for 11th class and 14 thousand rupees for 12th class will be deposited in the girl's account. After that 15000 will be given for vocational work education. When the girl turns 21, another Rs 1 lakh will be deposited in her account.
Free education will be provided. The arrangement from KG to PG will be free. Also a scooter will be given on passing 12th.
6 lakh rural women will be trained under the Lakhpati Didi scheme. Financial assistance will also be provided to empower them.
A subsidy of Rs 450 will be given to the beneficiaries of Ujola scheme on domestic gas cylinder.
Under Mitro Vandan Yojana, the amount given to pregnant women will be increased from Rs 5 thousand to Rs 8 thousand.
1200 will be deposited in the bank accounts of poor and economically weaker students every year to buy school dress and books.
SIT will be formed to investigate various scams in the state and punish the culprits.
A corpus fund of Rs 2000 crore will be created to promote tourism.
Rajasthan Institute of Technology and Rajasthan Institute of Medical Sciences will be opened in each division on the lines of AIIMS and IITs.
Two and a half lakh youth will be given government jobs in five years. 15 thousand doctors and 20 thousand paramedics will be recruited.
A regional heritage center will be built. Its budget will be Rs 800 crore. Under this, important things from local culture, literature, folk dance will be promoted internationally.
Mangarh will develop Dham. An icon will be created as the destination.
Also read-
Rajasthan Assembly Election 2023) Rajasthan Hindi News