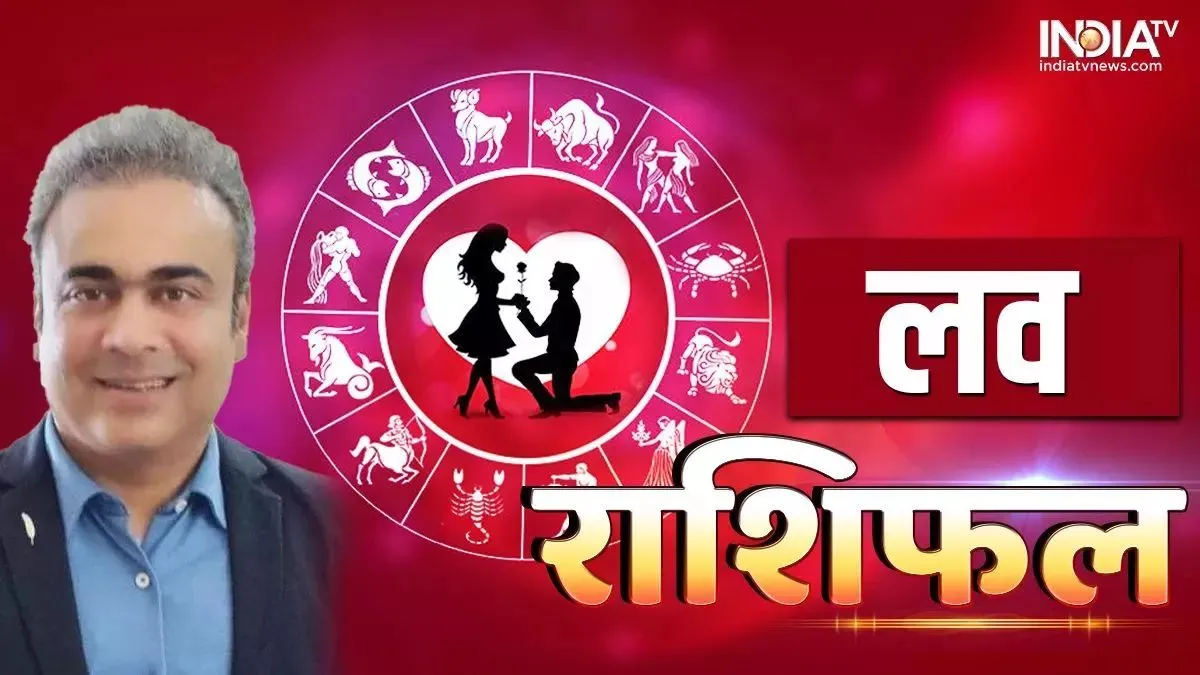 Love Horoscope 21 November 2023: How today (November 21) will be for your love life and what steps you can take to improve this day, get answers to all these questions from the country's leading aromalogist Anil Thakur.
Aries Love Horoscope: Aries Love Rashifal
Go on a long trip today and meet people, it will bring you happiness and peace. Today is not the best day for love, but someone's company will make it better. Do something special for your spouse. Your social and personal life is your top priority today. You want to forget your past and move on, so you reconcile with old friends and spend time with them. One of your deepest desires is to express your love to your partner and You don't want to miss an opportunity for this.
Taurus Love Horoscope: Taurus Love Rashifal
Domestic and professional matters may cause you humiliation or grief. Love disease is incurable which can be cured only by caring and loving your partner but in such case fulfill your responsibilities properly. Now you will benefit from the education and knowledge you received from your father. Wherever you go today, success will be with you. Your partner has a lot of expectations from you and you will do your best to fulfill them. Your confidence can work like magic in giving color to your relationship. If the relationship is new, give it extra time.
Gemini Love Horoscope: Mithan Love Rashifal
Getting rid of any conflict is easy for you in a pinch. You are fully prepared to adapt to a new environment and are serious about your relationship. Avoid making any marriage decisions just yet. Intimate moments will make your relationship fresh and lively. Some interesting and polite people may enter your life today who will impress you. Take special care of your partner as they may need your help. Make your loved one happy by making some special efforts now to spice up your romantic life.
Cancer Love Horoscope: Cancer Love Rashifal
Today you will feel a different supernatural power through which you can win the heart of your loved one. Your efforts will bring you success in work place and personal life. Focus on your personality and avoid debts, accidents etc. to add love to your dull life. Your love life is full of music because of the understanding between you two. Think like a winner and move towards success, just decide what your destination is and how to get there. The stars are in your favor for love and romance, so welcome this period with open arms.
Leo Love Horoscope: Simha Love Rashifal
Today your day is about three things: fun, happiness and relaxation. Romance and sexual pleasure are your priority and you are fully prepared for it. Do not drag problems in love relationships like a broom, but start solving them as soon as possible. Today you may experience loving feelings for someone special. Both of you share every experience of your life and this will further improve your relationship. You may also be passionate about something close to your heart. Choose your relationships wisely and maintain them for life.
Virgo Love Horoscope: Virgo Love Rashifal
Today you are emotional about matters of the heart and people may misuse your situation. A mother or any mother-like woman will need your care. Much time will be spent in renovating or repairing the house. Today your desire is to serve others. You will feel very romantic and passionate moments with your lover. Keep money matters out of your romance. Money is a necessity of life but if you both work together, all your wishes will come true and your partner will also make your wish tree flourish.
Libra Love Horoscope: Libra Love Rashifal
At this time, there is a possibility of a short trip in which your younger brother/sister can accompany you. Don't neglect your lover and buy him a gift. It's the little things that make love grow deeper. There may be quarrels with neighbors. Your life is full of romance and today is the perfect day to express your love. Professional matters aside, sentimentality will come first for you. Now you just want to know about your partner's desires, this will bring you both closer to each other sexually and spiritually.
Scorpio Love Horoscope: Scorpio Love Rashifal
Sibling-related issues may trouble you today, forcing you to cancel a romantic trip. Today you will be attracted to fashion, art and valuables. Sometimes life gets so caught up in the race to make money that relationships get left behind. Now is the time to resolve your inner conflicts, for this you need to focus on the important issues of life. Some things about your special friend may bother you today, be patient. Forget everything and think only about your future, the coming time for both of you will be the best time of your life.
Dhan Ki Love Horoscope: Dhanu Love Rashifal
You believe in a person's good nature more than their appearance, color and appearance, that's why you will think of taking risks and making big plans. Share everything with your partner because a relationship is successful only when there is clear communication. It's as easy to solve your partner's small problem as it is for you. You are about to solve this problem related to your Shona. It will make a good impression.
Capricorn Love Horoscope: Makara Love Rashifal
Right now you are emotional about your love life and in this situation you can take some special decisions. You will get a surprise or you can do something special for your loved one. Now is the time to make your life resonate with the warmth of your love, just avoid deception. You will not change yourself to deal with life's problems, but you will face them with courage. Today there is a possibility of a quarrel with your beloved but your sweet words will also win his heart. Love doesn't mean being close to someone all the time, but being with someone all the time.
Aquarius Love Horoscope: Aquarius Love Rashifal
Today is full of good fortune where you will spend time with friends, brothers, sisters and loved ones. Take special care of your partner as they may need your help. Small mischief and teasing in love makes love deeper. Your confidence will surprise your life. Today you will not shy away from new experiences and discoveries with your partner and you may also get appreciation for your performance. Keep in mind that if you don't intervene, your friends, family or other people may harm your love life.
Aries Love Horoscope: Meena Love Rashifal
There are always conflicts in love, just don't let them become serious and resolve your differences on time. Keep money matters out of romance. You are always ready to help your brothers, sisters and neighbors. Today is a good day for you as today you will feel completely satisfied with life. Now you will think about making big plans and taking risks in life, not only that you will also think big for your love life. Remember, a relationship only succeeds when there is clear and honest communication between the two.
(About the Author: Anil Kumar Thakur is a renowned aromologist of the country, who gives horoscopes and predictions based on your Moon Sign i.e. your date of birth.)
Also read-
Weekly Business Horoscope November 20-26, 2023: These 5 zodiac people will get huge profits in business, know what this week's business horoscope says.
Weekly Horoscope November 20 to November 26: The stars of fortune for these zodiac signs will shine this week, just follow these simple tips according to your zodiac sign.
More Rashfall News
Love Horoscope 21 November 2023